It's Throwback Thursday! Today I'm resharing my review of Echoes of Mercy by Kim Vogel Sawyer, who consistently delivers challenging historical romance novels.
About Echoes of Mercy
Sometimes a secret must be kept for the truth to be revealed.
When a suspicious accident occurs at the famous Dinsmore Chocolate Factory in Sinclair, Kansas, Caroline Lang goes undercover as a factory worker to investigate the circumstances surrounding the event and how the factory treats its youngest employees—the child workers. Caroline's fervent faith, her difficult childhood, and compassionate heart drove her to her job as an investigator for the Labor Commission and she is compelled to see children freed from such heavy adult responsibilities, to allow them to pursue an education.
Oliver Dinsmore, heir to the Dinsmore candy dynasty, has his own investigation to conduct. Posing as a common worker known as "Ollie Moore," he aims to find out all he can about the family business before he takes over for his father. Caroline and Oliver become fast friends, but tension mounts when the two find themselves at odds about the roles of child workers. Hiding their identities becomes even more difficult when fate brings them together over three children in desperate need. When all is revealed, will the truth destroy the love starting to grow between them?
Find Echoes of Mercy online at:
Amazon US | Amazon UK | ChristianBook | Goodreads | Kobo | Koorong
Excellent romance, through-provoking plot
Ollie Moore, the day janitor at Dinsmore's World-Famous Chocolate Factory finds himself attracted to the new toter, Carrie Lang. But he knows Carrie isn't someone his parents will approve of. After all, he's not really janitor Ollie Moore. He's Oliver Fulton Dinsmore, son of the owner of the chocolate factory, working in disguise to investigate working practices at the factory, and the factory manager, Gordon Hightower.
Carrie isn't who she seems, either.
She's an undercover investigator for the Labor Commission, working to ascertain whether the recent death at the factory was an accident or something more sinister, and with a personal mission to end child labour. Carrie is attracted by Ollie, but suspects there is more to him than meets the eye—he might look like a common factory worker, but he doesn't always sound like one.
I have enjoyed the previous books I've read by Kim Vogel Sawyer, and Echoes of Mercy was no different. She combines interesting and likeable characters with a historical romance plot that manages to exceed my expectations in the way she weaves in issues of the day, in this case, child labour. Yet this theme is a natural outflowing of the story and never seems forced, and she gives weight to the arguments both for and against child labour: economic necessity vs. human compassion.
Echoes of Mercy also includes a subtle but solid Christian element, best evidenced for me with this quote: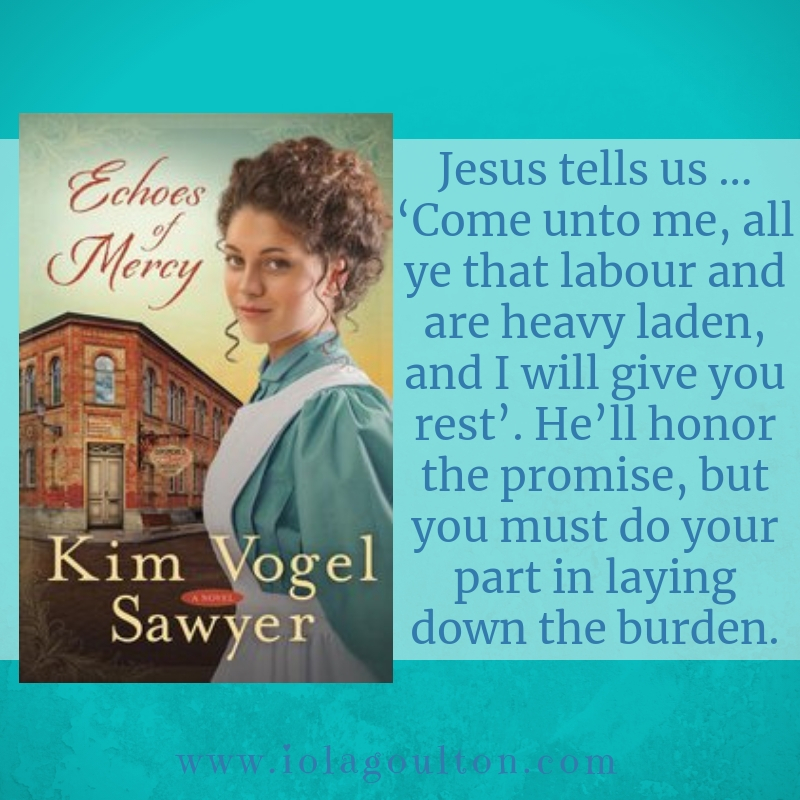 We live in a world where so many of us are so very busy, yet we are not always prepared to lay that burden at the cross.  Hmm …
I very much enjoyed the story, and found the information in the notes at the end informative. The state of Kansas passed laws in 1905 prohibiting children under the age of 14 from working in factors or mines, while national (US) laws weren't passed until 1917.
Overall, I highly recommend Echoes of Mercy as a good story with a thought-provoking yet unobtrusive theme.
Thanks to Waterbrook Multnomah and Blogging for Books for providing a free ebook for review.
About Kim Vogel Sawyer
Find Kim Vogel Sawyer online at:
Website | Amazon | BookBub | Facebook | Goodreads | Twitter
Read the introduction to Echoes of Mercy below: