It's First Line Friday! That means it's time to pick up the nearest book and quote the first line. Today I'm sharing from A Silken Thread by Kim Vogel Sawyer: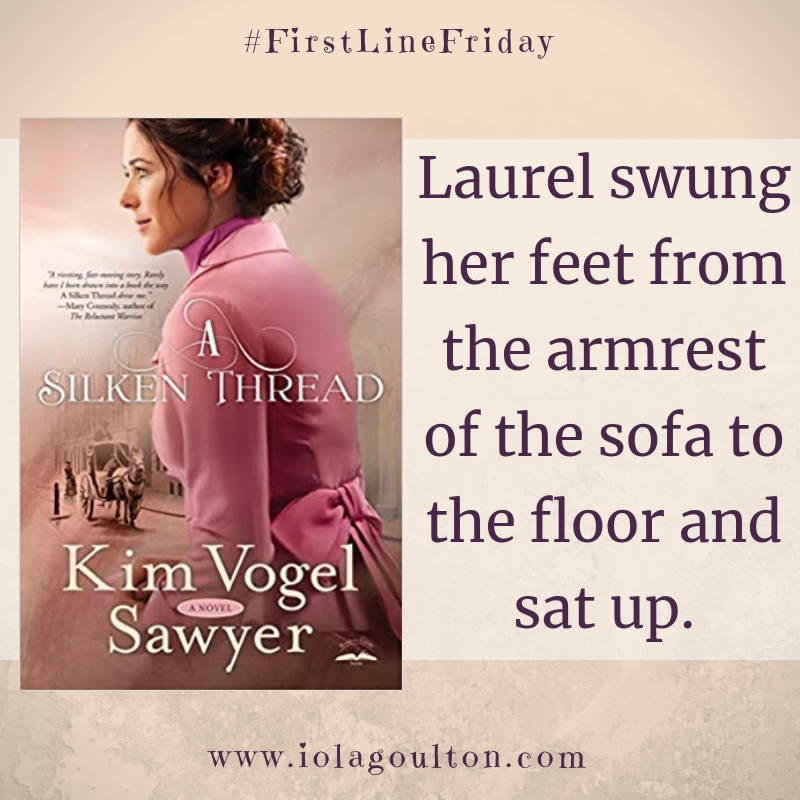 I love the cover, but I have to say that's not the most exciting first line, but should we judge an entire book by the first line? Have you read A Silken Thread? What did you think?
What's the book nearest you, and what's the first line?
About A Silken Thread:
For readers who love a heartwarming romance and a rich historical setting comes a tale of a young woman with a heavy burden, the International Cotton Exposition, and the pursuit of true love.
Eighteen-year-old Laurel Millard, youngest of seven children, is expected to stay home and "take care of Mama" by her older siblings, but Laurel has dreams of starting her own family. Operating a silk loom at the Atlanta Exposition will give her the chance to capture the heart of a man wealthy enough to take care of Laurel and any children she might bear, as well as her mother.
Langdon Rochester's parents have given him an ultimatum: settle down with a wife or lose his family inheritance. At the Exposition, Langdon meets Laurel. Marrying her would satisfy his parents's command, she would look lovely on his arm for social events, and in her besotted state, he believes she would overlook him continuing pursuing rowdy adventures with his unmarried buddies. Langdon decides to woo Laurel. Willie Sharp is not well-off and must take on an extra job at the Atlanta Exposition as a security guard. When mischief-makers cause trouble in the Women's Building, Willie is put in charge of keeping the building secure. He enjoys visiting with Laurel, who seems like the little sister he never had, but his feelings for Laurel change to something much deeper. Can Willie convince Laurel that he can give her better life–even with so little to offer?
You can find A Silken Thread online at:
Amazon US | Amazon AU | ChristianBook | Goodreads | Koorong
Click the button to check out what my fabulous fellow FirstLineFriday bloggers are sharing today:
You can then click the link which will take you to the master page of all this week's #FirstLineFriday posts.
And you can click here to check out my previous FirstLineFriday posts.
Share your first line in the comments, and happy reading!