Beth is the sensible one in the Whitaker family, a fact she's reminded of when younger sister Molly shows up announcing she's bought the derelict Fairwind Farm. Molly wants to restore the apple orchard and Christmas tree farm into the centre of the community it used to be. Beth is convinced she'll never succeed … but somehow finds herself a partner in the venture.
The solitary Drew Barlow is returning to Willow Grove and Fairwind Farm for the first time in twenty years. He volunteers in a community working bee, and ends up being recruited as the farm's all-round Mr Fixit. Maybe this will help him remember what happened, help him solve the mystery, help him find closure. Or maybe he'll just fall for his pretty yet reserved employer …
This is the second Courtney Walsh book I've read this year.
The first was Just Look Up, which was a romance novel with a deeply symbolic title that made me think on many levels (click here to read my review). Hometown Girl was a little different—it had plenty of romantic and situational tension, but it also had a suspense thread around Drew's history with the Fairwind property.
Drew and Beth both had secrets that came out during the story. Drew's secret was hinted at from his very first scene, with his reluctance to return to Fairwind, and the knowledge that something bad had happened. His reluctance to revisit the past made his secret feel natural. It helped that he had no memory of the actual event, just the knowledge he was there.
Beth's secret wasn't so obvious, but it was something recent, something she knew about, and something she didn't share. It made it feel as though she wasn't a trustworthy character, yet she was obviously supposed to be the heroine. That annoyed me, as it left me feeling conflicted. Was I supposed to sympathise with her, or not? This was probably the weakest aspect of the novel for me.
But this was more than made up for by the rest.
I especially enjoyed by the underlying suspense thread of the mystery over Jess's disappearance twenty years ago. Yes, I would have liked for Drew to fess up to his prior knowledge of Fairwind earlier, but I could see why he didn't. In the end, that aspect of the plot was just plain sad.
It was also good to watch the relationship develop between Beth and Drew, especially the way Beth was able to draw him out. I also enjoyed the minor characters—I do hope this is part of a series, because I'd like to see Ben and Callie together, and I wonder who might be right for the flighty Molly.
Overall, Hometown Girl is an excellent contemporary Christian romance. Recommended for fans of Brandy Bruce, Kara Isaac, Melissa Tagg, and Becky Wade.
Thanks to Waterfall Press and NetGalley for providing a free ebook for review.
About Courtney Walsh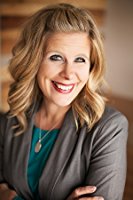 Courtney Walsh is a novelist, artist, theater director, and playwright. Change of Heart is her fifth novel and is set in the same town as Paper Hearts. Her debut novel, A Sweethaven Summer, hit the New York Times and USA Today e-book bestseller lists and was a Carol Award finalist in the debut author category. She has written two additional books in the Sweethaven series, as well as two craft books and several full-length musicals. Courtney lives in Illinois where she and her husband own a performing and visual arts studio. They have three children.
Find Courtney Walsh online at …
Website | Facebook | Instagram | Pinterest | Twitter | Goodreads
About Hometown Girl
Beth Whitaker isn't supposed to be a small-town girl. She's always dreamed of leaving Willow Grove, Illinois, for the big city, but she feels trapped, struggling to make up for a mistake that's haunted her for years. Just when Beth is finally ready to break free, her sister impulsively buys a beloved but run-down farm on the outskirts of town, and she begs Beth to help with the restoration. Reluctantly, Beth agrees to help—and puts her own dreams on hold once again.
Drew Barlow hasn't been back to Fairwind Farm since he was a boy, and he's spent all these years trying to outrun the pain of a past he thought he buried long ago. When he learns that the owner has passed away, his heart knows it's finally time to do the right thing. Returning to Willow Grove, Drew revisits the old farm, where he attempts to piece together his memories and the puzzle of the crime he witnessed so long ago.
Both on a journey to find peace, Beth and Drew are surprised when they begin to experience a restoration of their own. But when long-buried secrets break through the soil and the truth unfurls, will it threaten their budding relationship—and the very future of the farm? 
Click below to buy Hometown Girl:
Amazon US | Amazon UK | Amazon AU
You can read the introduction to Hometown Girl below: