For Liberty and Freedom
Freedom's Ring is a dual-timeline romance set in Boston. The modern story follows Anaya, a victim of the Boston Marathon bombing, which left her afraid to run and suffering guilt over her niece's injuries. The historical story follows Liberty, a single woman alone in 1770's Boston, left to raise her son after being raped.
Both women have their traumas to overcome.
Anaya responds by withdrawing—from her family, and from running. Liberty also runs away, but that's understandable in a time when society had definite opinions about unwed mothers, no matter the circumstances.
What connects the two women is a ring, which Liberty stole from her employer, and which Anaya is given by the stranger who rescues her after the bombing The present story shows Anaya and Brad meeting and seeking to find the story behind the ring—Liberty's story.
It's an engaging and intriguing timeslip story.
Freedom's Ring the difficult task of making each timeline as compelling as the other. Recommended for fans of dual timeline novels, especially those with a patriotic American feel.
Thanks to Tyndale House and NetGalley for providing a free ebook for review.
About Heidi Chiavaroli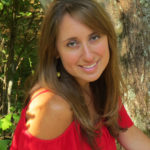 Heidi Chiavaroli is a writer, runner, and grace-clinger who could spend hours exploring Boston's Freedom Trail. She writes Women's Fiction and won the 2014 ACFW Genesis contest in the historical category. She makes her home in Massachusetts with her husband, two sons, and Howie, her standard poodle.
Find Heidi Chiavaroli online at:
Website | Facebook | Goodreads| Pinterest | Twitter
Click below to buy Freedom's Ring:
Amazon US | Amazon UK | Amazon AU | Barnes & Noble | Christian Book | Koorong
You can read the introduction to Freedom's Ring below: