The Secrets of Paper and Ink is the story of three women: Sophia Barrett, a women's counselor from Phoenix, Arizona; Ginny Rose, bookshop owner from Port Willis, Cornwall; and Emily Fairfax, governess and lady's companion in Victorian England.
Sophia returns to work after a three-month enforced sabbatical following a mental breakdown—the result of her conflicted feelings over the death of her fiance a year ago … her abusive fiance. She lasts less than an hour before her past intrudes again and she runs away. This time she makes a spur-of-the-moment decision to visit Cornwall, once home to her favourite dead novelist.
Owning a bookshop in a remote Cornish village isn't Ginny's dream—it's her husband's dream. But he's currently off "finding himself" in London, leaving Ginny with a failing business and no other means of support. She could go back to America and back to her parents, but that would mean being back under her mother's control.
Emily's story comes to us through a journal Sophia discovers in the back of Ginny's shop. She's the impoverished daughter of the town's drunken parson, now supporting herself as a governess while secretly writing a journal, a novel, and letters to her forbidden beloved.
It's good to see Christian fiction that deals with the hard areas in life.
The Secrets of Paper and Ink features a therapist who's a victim of domestic violence, a separated Christian woman, and an impoverished gentlewoman. All are in difficult situations, partly a result of their own bad decisions but more a result of the decisions of the men they depended on.
The Secrets of Paper and Ink is a powerful story of love and loss and loving again.
The writing is excellent, and I loved the way the author wove the Victorian story into the contemporary. The main theme is of three women forced to discover their identities as individuals rather than as daughter, fiance, or wife. It's a challenge many modern women still face—finding our purpose in God rather than in man.
It's a strong message that's presented well.
The novel isn't preachy at all—in fact, you could give this to a non-Christian friend and they probably wouldn't even guess it's from a Christian publisher. At the same time, it's true to real life and true to the Bible. Sin is present, but so are the consequences. And the end message is most definitely Christian: that we are defined by Whose we are. It doesn't matter where we've been or what mistakes we've made along the way. What matters is that we can find our peace in God.
Thanks to Thomas Nelson and NetGalley for providing a free ebook for review.
About Lindsay Harrel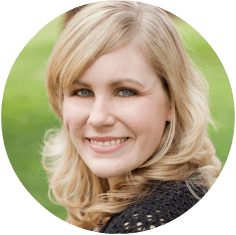 Lindsay Harrel is a lifelong book nerd with a B.A. in journalism and M.A. in English. She lives in Arizona with her young family and two golden retrievers in serious need of training. Lindsay has held a variety of jobs, including curriculum editor for two universities, medical and business writer, and copywriter for a digital marketing agency. Now she juggles stay-at-home mommyhood with working freelance jobs, teaching college English courses online, and—of course—writing novels.
When she actually has time to do other things, she loves to sing, read, and sip passion iced teas from Starbucks. She loves to watch God work in ordinary lives to create something extraordinary, and she writes to bring hope to those who may have lost it along the way.
You can find Lindsay Harrel online at:
Website | Facebook | Instagram | Pinterest | Twitter
About The Secrets of Paper and Ink
Brought together by a charming bookstore in England, three women fight to defy expectations, dream new dreams, and welcome love into their lives.
As a counselor, Sophia Barrett is trained to help people cope with their burdens. But when she meets a new patient whose troubles mirror her own, she realizes she hasn't dealt with the pain of her recent past. After making a snap decision to get away for the summer, Sophia moves overseas to an apartment above a charming bookstore in Cornwall, England. She is hopeful she will find peace there surrounded by her favorite thing: great literature.
Bookstore owner Ginny Rose is desperate to save her business without asking for help from a husband who's decided to take a break from their marriage. Ginny never imagined she'd be solely responsible for keeping afloat her husband's dream, but the unexpected friendship with her new renter has her feeling more optimistic. Between the two of them—and Ginny's brother-in-law, William—the bookstore might stand a chance.
Then Sophia finds a notebook in the bookstore that contains journal entries from Emily Fairfax, a governess who lived in Cornwall more than 150 years ago. Sophia learns that Emily harbored a secret passion for becoming an authoress—as well as a deep love for her childhood friend, Edward, whose station she dared not dream to touch.
Eager to know more of Emily's story, Sophia goes on a quest—dragging Ginny and William with her—to discover the heart of the woman behind the beautiful entries. Soon Ginny's need to save the bookstore becomes more than a way to save her marriage, and Sophia finds new purpose of her own. Together they find that sometimes both heartache and hope can reach across the centuries.
You can find The Secrets of Paper and Ink online at:
Amazon US | Amazon AU | ChristianBook | Goodreads | Koorong