The Solace of Water is not your run-of-the-mill Christian fiction.
It's set in 1956, in the small town of Sinking Creek, Pennsylvania. The writing is excellent, with strong and original character voices. The story is told in first person from the point of view of three main characters: Emma, Delilah, and Sparrow. Each hides secrets and pain. No, this isn't an easy read (and there should be a trigger warning for self-harm).
Emma is Amish, and has lived in Sinking Creek her entire life. She gives the outward appearance of being a submissive Amish wife, but she's hiding secrets—her own, and her husband's. Delilah and her family have recently moved to Sinking Creek from Montgomery, Alabama, but she finds moving doesn't take away her troubles. Sparrow is Delilah's daughter. Sparrow knows Delilah blames her for her brother's death, and knows there is nothing she can do to change that.
Delilah was a difficult character to empathise with.
Sure, she's grieving the loss of her four-year-old son, but she's an adult. She shouldn't blame her daughter, even if her daughter was supposed to be watching the younger children. This provides plenty of conflict between Delilah and Sparrow, and is the impetus behind both Delilah and Sparrow's developing relationship with Emma.
Emma has her own secrets.
A drunk for a husband, a rebel for a son, and a marriage fractured by hurt. She's intrigued by this new family in town who worship in such a different way to her, and she's puzzled at Delilah's reluctance to befriend her.
I think Sparrow was my favourite character.
She's the victim, the character who has had little control over the situation she finds herself in. Now she's struggling to be in control. She is intrigued by Emma and her son, who treat her as equals. But this is 1950s America and segregation is real, whether the physical signs are there or not.
The Solace of Water is a fascinating exploration of racial differences and prejudice set in the early years of the Civil Rights struggle. It emphasises how we're often afraid of "different". It shows how it's important to understand and work through our differences—especially with other Christians.
Thanks to Thomas Nelson and NetGalley for providing a free ebook for review.
About Elizabeth Byler Younts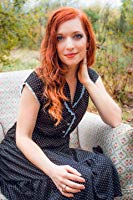 Elizabeth Byler Younts writes women's fiction for Harper Collins/Thomas Nelson. She is a member of the American Christian Fiction Writers. She gained a worldwide audience through her first book Seasons: A Real Story of an Amish Girl and is a RITA nominated writer. She is also the author of The Promise of Sunrise series. She has consulted on Amish lifestyle and the Pennsylvania Dutch dialect for two award-winning television shows. Elizabeth lives in Central Pennsylvania with her husband, two daughters, and a cockapoo named Fable.
FInd Elizabeth Byler Younts online at:
Website | Facebook | Goodreads | Instagram | Pinterest | Twitter
About The Solace of Water
In a time of grief and heartache, an unlikely friendship provides strength and solace.
After leaving her son's grave behind in Montgomery, Alabama, Delilah Evans has little faith that moving to her husband's hometown in Pennsylvania will bring a fresh start. Enveloped by grief and doubt, the last thing Delilah imagines is becoming friends with her reclusive Amish neighbor, Emma Mullet—yet the secrets that keep Emma isolated from her own community bond her to Delilah in delicate and unexpected ways.
Delilah's eldest daughter, Sparrow, bears the brunt of her mother's pain, never allowed for a moment to forget she is responsible for her brother's death. When tensions at home become unbearable for her, she seeks peace at Emma's house and becomes the daughter Emma has always wanted. Sparrow, however, is hiding secrets of her own—secrets that could devastate them all.
With the white, black, and Amish communities of Sinking Creek at their most divided, there seems to be little hope for reconciliation. But long-buried hurts have their way of surfacing, and Delilah and Emma find themselves facing their own self-deceptions. Together they must learn how to face the future through the healing power of forgiveness.
Eminently relevant to the beauty and struggle in America today, The Solace of Water offers a glimpse into the turbulent 1950s and reminds us that friendship rises above religion, race, and custom—and has the power to transform a broken heart.
Find The Solace of Water online at:
Amazon | ChristianBook | Goodreads | Koorong
Read the introduction to The Solace of Water below: