Wow! Wow! Wow!
I've read a lot of books this year—some good, some great—but few that I want to read again. Right. Now. The Secret Life of Sarah Hollenbeck is one.

Sarah McDermott divorces her high school sweetheart-husband after he cheats on her, and goes back to being Sarah Hollenbeck. Only she has no idea who Sarah Hollenbeck is, because she's been the trophy wife for so long. She joins a book club, writes bad poetry, quits book club, and writes a naughty novel under the pen name of Raine de Bourgh. The novel goes immediately to the top of all the bestseller charts, as do the two sequels (because, donchaknow, that's what happens to all debut novelists? Not).
And then Sarah Hollenbeck becomes a Christian. She says:
This book could be a detailed story of how my best friend led me to the Lord. It's a good story … but that isn't the story I need to tell. This is the story of my feeble attempts to make sense of my life.
Sarah realises she can't write naughty novels any more. Instead, she joins her one remaining friend at church, where she immediately develops an inappropriate crush on the first guy she meets. Who happens to be the pastor. The married pastor. With a daughter. Oops.
I was picturing myself in his arms and imagining how his lips would feel on mine. And then I remembered that I was in church and that I had become a Christ-follower on Monday.
Fortunately for Sarah, the pastor turns out not to be married but widowed (fortunately for Sarah. Ben is somewhat taken aback at the thought of dating the notorious Raine de Bourgh, but he copes (lol). It's interesting to watch their relationship unfold, because Ben's first marriage was everything Sarah's wasn't.
Sarah decides to write Christian fiction, so reads some of what's on sale:
The books I read didn't feel realistic. At least, they weren't my reality. Then again, my reality was messed up, so maybe I wasn't the best judge.
I've had a lot of conversations along the same lines—too much Christian fiction doesn't feel realistic (I'm not counting the suspense genre here. I'm perfectly happy for my reality not to include dead bodies and stalkers, and I'll trust those authors are presenting their information accurately).
Sarah goes on to make another point that's recently come up in my reading and freelance editing (yes, I'm a freelance fiction editor specialising in Christian romance): how the women in the books don't seem to feel desire or temptation. Yes, I'd noticed that as well. In fact, I've read Christian romances where the hero and heroine had all the romantic attraction of siblings (that has even more of a yuck factor than a sex scene). I don't want lots of hot-and-heavy in Christian fiction, but there needs to be some sexual attraction. Otherwise it's not realistic.
I loved the humor.
There's a scene where Sarah shares some poetry with her book club. Most are politely complimentary. One woman is not:
What's with the subjects? It's like you just flipped through the yellow pages until something jumped out at you. What's next? Exterminators?
I looked at the papers in my hands and sheepishly shuffled "Insecticide Nuclear Winter" to the bottom of the stack.
And she (Sarah Hollenbeck? Bethany Turner? Both?) has great taste in actors:
Can you believe I couldn't even get Martin Freeman to give me Benedict Cumberbatch's phone number?
Yeah. I've got to read this again.
Recommended for fans of contemporary romance with humour, from authors such as Kara Isaac, Beth Troy, Becky Wade, and Melissa Tagg.
Thanks to Baker Publishing and NetGalley for providing a free ebook for review.
About The Secret Life of Sarah Hollenbeck
Becoming a Christian is the best and worst thing that has ever happened to Sarah Hollenbeck. Best because, well, that's obvious. Worst because, up to this point, she's made her very comfortable living as a well-known, bestselling author of steamy romance novels that would leave the members of her new church blushing. Now Sarah is trying to reconcile her past with the future she's chosen. She's still under contract with her publisher and on the hook with her enormous fan base for the kind of book she's not sure she can write anymore. She's beginning to think that the church might frown on her tithing on royalties from a "scandalous" book. And the fact that she's falling in love with her pastor doesn't make things any easier.
With a powerful voice, penetrating insight, and plenty of wit, Bethany Turner explodes onto the scene with a debut that isn't afraid to deal with the thorny realities of living the Christian life.
Find The Secret Life of Sarah Hollenbeck online at:
Amazon US | Amazon UK | Amazon AU
About Bethany Turner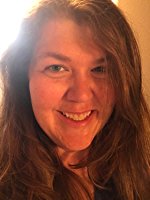 Bethany Turner has been writing since the second grade, when she won her first writing award for her essay explaining why, if she could have lunch with any person throughout history, she would choose John Stamos. Do-gooders all around her chose Reagan, Thatcher and Gorbachev, but it was Bethany's ode to Uncle Jesse which walked away with the prize. More than 25 years later, her writing is still infused with pop culture and off-the-beaten-track ideas.
Bethany is a born and bred Kentucky girl who relocated to Colorado in 2001, three years after meeting the love of her life in a chat room, back before anyone knew that wasn't always a good idea. Thankfully, it worked out in this case, and she and her husband are the proud parents of two boys. In 2014 Bethany walked away from her career as a bank vice president to step out in faith as a writer. Since then, God has not only opened doors in the publishing world, but has also called her to full-time ministry serving on a church staff. She is an innovative systems administrator for a rural church that is passionate about reaching the unchurched.
Find Bethany Turner online at:
Website | BookBub | Facebook |  Instagram | Pinterest | Twitter
Read the introduction to The Secret Life of Sarah Hollenbeck below: