I read Living Lies right after reading two other brilliant Christian thriller novels. That may well have been a mistake, because Living Lies didn't measure up. But the other two novels were both from multi-published award-winning authors, and I fully expect one or both of those other novels to feature in various 2020 award lists. So it may not be a fair comparison, given that Living Lies is the debut novel from Natalie Walters.
Lane Kent is the widowed mother of a young son, and the owner of a small-town bakery. She lives a quiet life, but that changes when she discovers a body in the woods. Charlie Lynch, the new deputy in town, is assigned to the case. This brings him into contact with Lane and her son. The police think the case a suicide at first, but it soon becomes apparent that it's a murder … a murder to hide another crime.
Living Lies is one of the few Christian novels I've read that depicts mental health issues in a realistic way.
In addition, it was refreshing to see Christian fiction where the mental health issue wasn't PTSD resulting from the hero's time in military service in some place with more sand than water. After all, Christian fiction readers tend to be women, so it's good and healthy to see a romance novel dealing with an all-too-common mental health issue that affects women as much as or more than men.
But there were a few things which bothered me.
One was the heroine's name: Lane Kent. Every time I saw it, my brain thought "Lois Lane and Clark Kent". Yeah, that's weird. But it is what it is. Another botheration was a research fact: I've heard (from a forensic pathologist) that Jane Does are identified by fingerprints, dental records, or DNA—not by distraught parents (apparently, distraught friends and relatives have a nasty habit of getting IDs wrong, especially when bodies have been in the woods for a few days).
The final botheration was Lane's father's attitude towards her depression. He came across overbearing and controlling for most of the novel. I later realised this was the attitude of a caring and protective father who didn't know how to deal with something he didn't understand, but by then the damage had been done. I'd been set up to not like him, and I didn't.
Overall, Living Lies was a solid first novel that addresses issues most Christian fiction ignores.
It was perhaps a bit too careful to tick all the plot and character boxes (but that's better than the opposite), and I'll look forward to seeing what Natalie Walters can produce next.
Thanks to Revell Books and NetGalley for providing a free ebook for review.
About Natalie Walters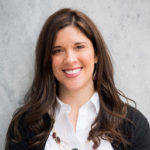 Natalie Walters is a military wife who currently resides in Hawaii with her soldier husband and their three kids. She writes full-time and has been published in 
Proverbs 31 
magazine and has blogged for 
Guideposts 
online. Natalie comes from a long line of military and law enforcement veterans and is passionate about supporting them through volunteer work, races, and writing stories that affirm no one is defined by their past.
Find Natalie Walters online at:
Website | Facebook | Goodreads | Instagram | Twitter
About Living Lies
In the little town of Walton, Georgia, everybody knows your name–but no one knows your secret. At least that's what Lane Kent is counting on when she returns to her hometown with her five-year-old son. Dangerously depressed after the death of her husband, Lane is looking for hope. What she finds instead is a dead body.
Lane must work with Walton's newest deputy, Charlie Lynch, to uncover the truth behind the murder. But when that truth hits too close to home, she'll have to decide if saving the life of another is worth the cost of revealing her darkest secret.
Debut novelist Natalie Walters pulls you to the edge of your seat on the first page and keeps you there until the last in this riveting story that will have you believing no one is defined by their past.
Find Living Lies online at:
Amazon US | Amazon AU | ChristianBook | Goodreads | Kobo
| Koorong
Read the introduction to Living Lies below: