Sophie Dawson is a prosecutor in the White Collar Crime Unit, working on financial fraud cases. It should be less dangerous than criminal prosecutions, and it is … until she witnesses a robbery that leaves two people dead, and identifies the perpetrator as the brother of one of the city's gang leaders. And she's the lone witness.
I really enjoyed Deadly Proof, the first book in Rachel Dylan's Atlanta Justice series.
But I didn't enjoy Lone Witness as much. I enjoyed the legal aspect from Sophie's viewpoint, but did find the number of point of view characters distracting as it wasn't obvious why I was seeing their side of the story.
And I wasn't altogether convinced by the romance subplot—it all felt a little too contrived, rather than reading like a natural development. It wasn't bad. It just wasn't the standard I'd expected after reading Deadly Proof. I think that was partly the fault of the dialogue, which seemed a little too formal, too wooden, for characters who were supposed to be falling in love.
The legal thriller/suspense element to Lone Witness was well done.
The suspense is enhanced as the reader soon understands what Sophie and Cooper don't know: that Sophie had two separate sets of enemies … and that the attacks on her life weren't coming from where she and Cooper thought. There was a neat twist at the end of the story that I didn't see coming, so that was well done.
I also enjoyed the legal aspects, which showcased the author's own legal experience in Grisham-worthy courtroom scenes. Overall, I'm sure legal suspense fans will enjoy Lone Witness.
Thanks to Bethany House and NetGalley for providing a free ebook for review.
About Rachel Dylan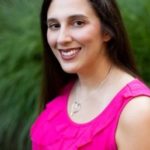 Rachel Dylan was a litigator in one of the nation's most elite law firms for over eight years and now works as an attorney at one of the Big Three automobile manufacturers. She is the author of four Love Inspired Suspense novels and lives in Michigan with her husband.
Find Rachel Dylan online at:
Website | Facebook | Pinterest | Twitter | Goodreads
About Lone Witness
Prosecutor Sophie Dawson's first job in the White Collar division of the Fulton County D.A.'s office is to build a case against a local bank employee who may be cheating clients. But when circumstances beyond her control leave her as the only witness to a double homicide involving a vengeful gang, her world is turned upside down.
Former Atlanta police officer turned private security guard Cooper Knight is hired to ensure that Sophie is kept safe. But as threats escalate, they don't know who they can trust.
Sophie is determined not to back down, but her bank case gets more complicated by the day, and the gang will stop at nothing to keep her from testifying. Sophie wants to take a stand for what's right–but can Cooper, who is determined not to be distracted by their growing attraction, keep her safe so that she can finish her pursuit for justice?
You can find Lone Witness online at:
Amazon | ChristianBook | Goodreads | Koorong
Read the introduction to Lone Witness below: