It's First Line Friday, which means it's time to open the book nearest you and share the first line. Today I'm sharing from Solo Tu by Narelle Atkins. It's the seventh book in the Tuscan Legacy series, and it's my completely biased favourite, because it's set in Australia.
Here's the first line: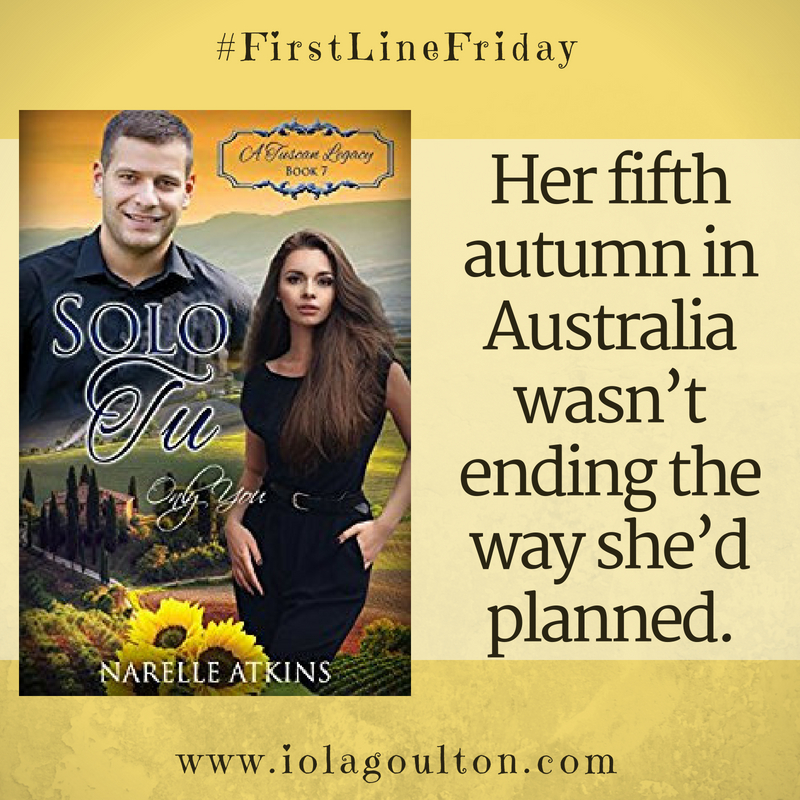 About Solo Tu:
Home means everything to Sienna Rossi.
Four years ago, Sienna defied her father by moving to Australia to obtain her teaching qualifications. Her grand plan is shaken by her father's unexpected death and a trip back to Tuscany for her grandmother's eightieth birthday where she renews her close bond with her sister, Alessa.
Teacher Dave Maxwell likes the freedom of his nomadic lifestyle. He works contract-to-contract, moving to different high schools around Australia. He's in Sydney for a season, caring for his grandma while his aunt is on an extended overseas vacation.
Back in Sydney, Sienna moves in with her Aussie cousins and starts her first teaching job, torn between her dream for a future in Australia and her longing for home. Sienna and Dave work at the same school, attend the same church, and quickly become friends. They are drawn together by circumstances and an undeniable attraction.
But their idyllic time together is temporary. Can the girl from Tuscany and the boy from Australia risk everything for love?
You can find Solo Tu online at:
Click the button to check out what my fabulous fellow FirstLineFriday bloggers are sharing today:
You can then click the link which will take you to the master page of all this week's #FirstLineFriday posts.
And you can click here to check out my previous FirstLineFriday posts.
Share your first line in the comments, and happy reading!