Savannah's husband of twenty years is leaving her for the other woman. Now the house is empty—their three children are at boarding school, college, and in a grave. Broken, Savannah goes to stay in her parent's holiday home, where she meets the neighbours: an old woman, her nephew, and his daughter.
A daughter who is the spitting image of Savannah's dead daughter.
Yes, Where Hope Begins has lots of angst. As the story progresses we find out more about how Shelby died, about how Savannah is convinced Shelby's death was her fault, and convinced husband Kevin blames her, even though he says he doesn't. We also see how this tragedy shaped their marriage, and paved the way for it's destruction.
At the lake house, we see Savannah's developing relationship with Brock, the bestselling author who is her new next-door neighbour. Her very attractive next-door neighbour. Why not? Her husband has left her for another woman and wants a divorce. That presents Savannah with a dilemma … and us as the reader. We're convinced we don't like Kevin, but does that justify Savannah's growing relationship with Brock?
The intricacies of the relationships are compounded by Savannah's Christian faith, a faith her husband supposedly shared. As Christians, we have clear views on adultery, but when is a marriage over? When is the wronged spouse allowed to move on?
Where Hope Begins is an intelligent, thought-provoking, and emotional read in a situation where there are lots of hard questions and no right answers.
The writing is excellent, as I've come to expect from Catherine West. The characters are well-developed, the plot complex but not convoluted, and the Christian elements threaded through but not overwhelming. Oh, and I cried. It's been a long time since a novel made me cry.
Recommended for anyone looking for Christian fiction that addresses some of the hard issues of life.
Thanks to Thomas Nelson and NetGalley for providing a free ebook for review.
About Catherine West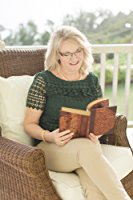 Catherine West writes stories of hope and healing from her island home in Bermuda. When she's not at the computer working on her next story, you can find her taking her Border Collie for long walks or reading books by her favorite authors. She and her husband have two grown children and one beautiful granddaughter. Catherine is the winner of the 2015 Grace Award (Bridge of Faith) and the Romance Writers of America's Faith, Hope & Love Reader's Choice Award (The Things We Knew). Her most recent novel, The Memory of You, released March 2017 and Where Hope Begins releases in May 2018.
You can find Catherine West online at:
Website | Facebook | Goodreads | Instagram | Pinterest | Twitter
About Where Hope Begins
Sometimes we're allowed to glimpse the beauty within the brokenness . . .
Savannah Barrington has always found solace at her parents' lake house in the Berkshires, and it's the place that she runs to when her husband of over twenty years leaves her. Though her world is shaken, and the future uncertain, she finds hope through an old woman's wisdom, a little girl's laughter, and a man who's willing to risk his own heart to prove to Savannah that she is worthy of love.
But soon Savannah is given a challenge she can't run away from: Forgiving the unforgivable. Amidst the ancient gardens and musty bookstores of the small town she's sought refuge in, she must reconcile with the grief that haunts her, the God pursuing her, and the wounds of the past that might be healed after all.
Where Hope Begins is the story of grace in the midst of brokenness, pointing us to the miracles that await when we look beyond our own expectations.
Find Where Hope Begins online at:
Amazon | ChristianBook | Goodreads | Koorong
Have you read any novels by Catherine West? What did you think?