It's First Line Friday! That means it's time to pick up the nearest book and quote the first line. Today I'm sharing from All Made Up by Kiwi author Kara Isaac, which is currently on pre-order special for $3.99.
If you've read and enjoyed Kara's earlier books, you'll want to read this one—especially if you're a fan of "reality" TV shows like The Bachelor. Here's the first line: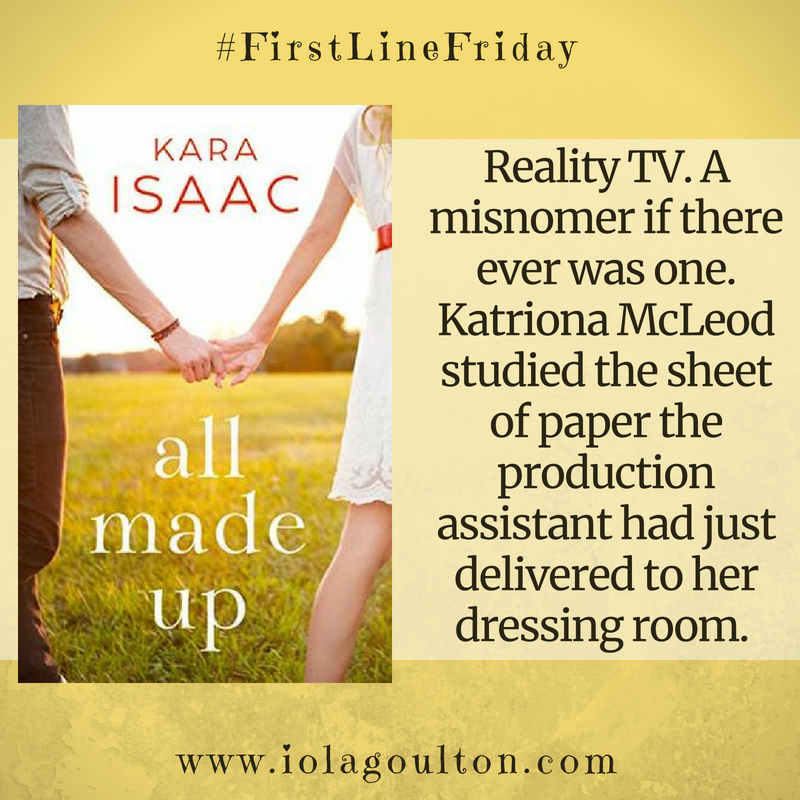 What's the book nearest you, and what's the first line?
About All Made Up:
Everyone thinks Katriona McLeod is living the dream. Her professional career as a make up artist sees her traveling the world working with the stars and she's got no shortage of men wanting her affection. Only problem is she's never gotten over Caleb Murphy, the one guy she's ever loved. When she accepts a job on the latest looking-for-love reality TV show, Falling for the Farmer, she discovers to her horror that Caleb is the leading man and she's cast as one of his harem. But she hides a secret that means that even if she wanted a second chance with the guy who broke her heart she could never have it.
Caleb Murphy couldn't care less about C-Class celebrity fame or reality TV and he certainly doesn't believe it could lead him to love. The one thing he does care about is fulfilling his mother's last wish. Kat's presence on the show seems to offer up a solution that will make both the network and his mother happy. It might have been almost ten years since they split but he knows he can trust her with his plan. Just as long as he doesn't fall in love all over again with the woman who will never stay.
You can find All Made Up online at:
Click the button to check out what my fabulous fellow FirstLineFriday bloggers are sharing today:
You can then click the link which will take you to the master page of all this week's #FirstLineFriday posts.
And you can click here to check out my previous FirstLineFriday posts.
Share your first line in the comments, and happy reading!