It's Throwback Thursday! Today I'm sharing my review of When Fall Fades by Amy Leigh Simpson. I first reviewed this for Suspense Sisters Reviews, and I'm resharing it because I just found out the latest book in the series just released … If Spring Comes, which is the third book in The Girl Next Door series. Which means I completely missed book 2 (From Winter's Ashes). I'm guessing we can expect a summer book in a year or so.
When Fall Fades is an excellent debut novel. The writing is outstanding, and I found myself underlining a lot of lines because they were funny (Special Agent Smolder), clever, original, or all three. The plot was excellent, both the main romance and murder/suspense plots, and the more subtle hints about the character's personal histories . . . and how these might play in to future novels in the series.
But the real strength was the characters. Archer Hayes is the perfect hero: handsome, intelligent, hard-working, dedicated. And hopelessly attracted to Sadie Carson, who is intelligent and caring and sassy, and more than prepared to stand up to the sometimes arrogant FBI agent. I thoroughly enjoyed the interplay between the two, and totally bought into their mutual attraction even before they were prepared to admit it to each other.
While When Fall Fades is published by a general market publisher, it has strong Christian themes, including one character reconsidering their relationship with God. Aspects of When Fall Fades are more edgy than general Christian fiction—there's more kissing, for example, and it's more hot-and-heavy than the kissing I see in most Christian fiction, but it never crosses the line into inappropriate (in my view), and definitely counts as clean fiction.
Recommended. I'll definitely be watching for the sequel!
(Which you now know I totally missed!)
About When Fall Fades
Sadie Carson is an expert on unfinished business. Five years after the derailment of her dreams she's just barely existing, using her job as a hospice nurse to give others the one thing she can't seem to find-closure. So when her elderly neighbour Charlie, a brilliant conspiracy nut known for harassing the FBI, is murdered, Sadie suspects Charlie might've been onto something and intends to make sure someone solves the mystery of her friend's death, even if it's her.
The feisty little blonde may have found the victim's body, but FBI Special Agent Archer Hayes has no intention of letting some nosy civilian interfere with his investigation. The guilt he feels is bad enough. The last thing Archer needs is another distraction to haunt him. Especially one as beautiful and beguiling as the girl next door. But throw in a mountain of hoarded evidence and suspiciously coded journals and the case takes a puzzling turn toward a decades old conspiracy cover-up from World War II-one only the victim's closest confidant can help untangle.
Sadie and Archer reluctantly join forces to decode the riddle of secrets Charlie carried to his grave. Or did he? Someone is after a dangerous truth. But to uncover it or bury it is a question that leads the unlikely pair on a quest for redemption that lands Sadie in the crosshairs of a desperate killer. And when the dangers of the past and present collide Archer must fight to save the life of the woman he's falling for . . . only to discover he might be the one in need of saving.
Find When Fall Fades online at:
About Amy Leigh Simpson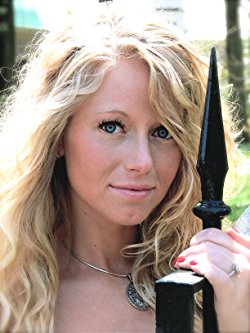 Amy Leigh Simpson writes romantic mysteries with honesty and humor, sweetness and spice, and gritty reality covered by grace. When she's not stealing moments at naptime to squeeze out a few more adventures in storyland, she's chasing around two tow-headed miscreants (Ahem)—boys, playing dress up with one sweet princess baby, and being the very blessed wife to the coolest, most swoon-worthy man alive.
Amy is a Midwestern-girl, a singer, blogger, runner, coffee-addict, and foodie. Her Sports Medicine degree is wasted patching up daily boo-boos, but whatever is left usually finds its way onto the page with fluttering hearts, blood and guts, and scars that lead to happily ever after.
Find Amy Leigh Simpson online at: