The Next Installment in the Uncharted Series
Uncharted Hope is the fifth book in a series, and it is one of those series that you'll understand and appreciate better if you've read the earlier books first (at least The Land Uncharted). There is also a prequel series, Uncharted Beginnings: Aboard Providence, and Above Rubies.
Uncharted Hope felt like it was a little shorter than some of the other books in the series. It also had dual locations: Sophia and Nicholas in the Land, and Bailey Colburn back in the "real" world. This also meant the focus was less on the romance and more on the challenges each character faced, especially Sophia.
Sophia has had a rough upbringing in a family that was anything but supportive, and she's left with a desire to escape, and with low self-worth. Now she's living in the medical cottage and working as an apprentice to Lydia … although she's actually more interested in researching the properties of the gray leaf tree. And navigating the potential of a relationship with Nicholas Vestal.
Bailey is also a survivor, both of a shaky upbringing, and of the plague and war that have ravaged the US. A strange meeting finds her also researching the properties of the gray leaf tree. I didn't actually make the connections between Sophia and Bailey until I started writing this review, because the book kept me engrossed. And the ending … now I want to read the next book!
Anyone who has read the earlier books in the Uncharted series will want to read Uncharted Hope.
If you haven't, and you think you'd like a Christian series that's a mix of historical romance and speculative/dystopian, then you'll enjoy this series—you can either start with Aboard Providence (the 1860's origin story) or with The Land Uncharted (the start of the futuristic story). Recommended!
Thanks to the author for providing a free ebook for review.
About Uncharted Hope
Sophia Ashton's new medical assistant job comes with the perks of living on the Colburn property, which include being surrounded by a loving family—something she's never known. During the job's trial period, a patient puts Sophia in a questionable position. Now she must prove her competence or lose her job and home.
Nicholas Vestal is working on a sheep farm to earn a starter flock, but before his contract is up, he inherits a house in the village. While fixing up the old house he pursues Sophia Ashton, believing she is the woman God wants him to marry. But when Sophia's difficult past blocks Nicholas's plan, he must find a way to her heart.
Meanwhile, outside the Land…
When plant biologist Bailey Colburn is offered a research job, she knows Justin Mercer is playing her somehow. Working for the former naval flight officer sounds better than her other options in post-war Norfolk, even though Justin says he once met her long lost relatives. But when Justin introduces Bailey to the mysterious gray leaf tree, his unbelievable claims change her world.
About Keely Brooke Keith
Keely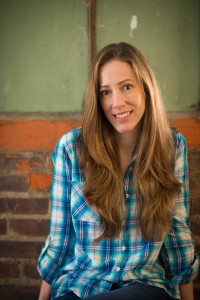 Brooke Keith writes inspirational frontier-style fiction with a slight Sci-Fi twist, including The Land Uncharted (Shelf Unbound Notable Romance 2015) andAboard Providence (2017 INSPY Awards Longlist). Keely also creates resources for writers such as The Writer's Book Launch Guide and The Writer's Character Journal.
Born in St. Joseph, Missouri, Keely grew up in a family that frequently relocated. By graduation, she lived in 8 states and attended 14 schools.  When she isn't writing, Keely enjoys playing bass guitar, preparing homeschool lessons, and collecting antique textbooks. Keely, her husband, and their daughter live on a hilltop south of Nashville, Tennessee.
Find Keely Brooke Keith online at:
Find Uncharted Hope online at:
Amazon US | Amazon AU | Amazon UK | Barnes & Noble | Book Depository | iBooks
Read the introduction to Uncharted Hope below: