Nina Fischer and her sister were adopted by her uncle after their deadbeat mother abandoned them as children. Now she's an adult and an aspiring photographer … and a person of interest when her uncle is murdered in his study in the wee hours of the morning and she's the only other person in the house.
It's a great start to an excellent murder mystery.
We know Nina wasn't the culprit, as she was on the telephone to her not-boyfriend at the time (hey, this is important. I've recently read a romantic suspense where the hero said he didn't do it, but I didn't know whether to believe him or not).
There is also the tension between Nina and the two men who are interested in her: Rick Zavala, the poor boy turned rising young lawyer, and Aaron McClure, a photojournalist with his own reasons for following her case.
This is the first novel I've read from Kelly Irvin, because her previous novels have all been Amish romance—not a genre I read. Tell Me No Lies has the distinction of being one of the few novels I've read from an Amish fiction author I've actually enjoyed (along with Vanetta Chapman and Shelley Shepherd Grey). The others have been lacking in research rigour, writing craft, or both.
I hope this isn't Kelly Irvin's only foray outside Amish fiction, as I'd like to read more of her writing.
The plot has plenty of twists and turns and red herrings. The writing is funny and smart, as were the characters. There's plenty of suspense, a sweet romance, and a solid Christian thread. All in all, Tell Her No Lies is a great read.
Recommended for fans of Christian thrillers and romantic suspense from authors such as Robyn Caroll, Lisa Harris, and Diann Mills.
Thanks to Thomas Nelson and NetGalley for providing a fee ebook for review.
About Kelly Irvin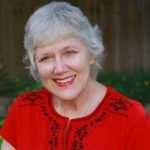 Kelly Irvin is the bestselling author of the Every Amish Season and Amish of Bee County series. The Beekeeper's Son received a starred review from Publisher's Weekly, who called it a "beautifully woven masterpiece." The two-time Carol Award finalist is a  former newspaper reporter and retired public relations professional. Kelly lives in Texas with her husband, photographer Tim Irvin. They have two children, two grandchildren, and two cats. In her spare time, she likes to read books by her favorite authors.
Find Kelly Irvin online at:
Website | Facebook | Pinterest | Twitter
About Tell Her No Lies:
Even the most admired families have secrets to hide . . .
Nina Fischer carries a camera wherever she goes—so she can view life through a filter. Safely. After her mother abandoned her to the streets, Nina has kept people at a distance, including her uncle, who adopted Nina and her sister. Wealthy and proud, he is a good man, a fair judge, and someone many in San Antonio admire.
But when he is murdered, and the detective assigned to the case accuses Nina of the crime, she knows she must act. She's determined to use her journalism background to find the real killer. The two men in her life want to help, but can she trust them? She's known Rick since they were children, but now he's an attorney whose political aspirations seem more important than Nina's tragic loss. And then there's Aaron, a news videographer; using their friendship could break the biggest story of his career.
Following the evidence leads Nina on a journey of discovery into her father's shocking masquerade as a law-abiding, family-loving Christian. Unlocking these secrets could prove fatal, but it's the only way Nina will ever be able to trust love again.
Combining romance and suspense, bestselling author Kelly Irvin's Tell Her No Lies is a high-stakes race for the truth.
You can find Tell Her No Lies online at:
Amazon | ChristianBook | Goodreads | Koorong