It's Throwback Thursday! Today I'm resharing my reivew of If I Run by Terri Blackstock, because the final book in the trilogy (If I Live) releases soon, and you'll want to read all three.
When Casey Cox finds her best friend's bloody body, she knows she's going to be the main suspect in his murder, because the investigation will be conducted by the same police officers who ignored the evidence in her father's death and called it a suicide. Thanks to a healthy 'rainy day' stash of cash, tricks learned from her cop father, and prolific reading of suspense novels, Casey is able to keep several steps ahead of the local police.
The victim's family hire Dylan Roberts, ex-army Criminal Investigations Division, to find the missing Casey Cox. But Dylan finds the police are reluctant to allow him access to all the information relating to the crime, and to the earlier Cox suicide, and this—along with some of his findings—means he questions Casey's guilt.
If I Run is suspense at its finest.
Casey is intelligent—very intelligent—and suspicious of the local police force. We (and Dylan) find out more and more of her personal history as the story progresses, which confirms Casey's innocence but doesn't necessarily tell us who is guilty—or why. She's also kind and shows concern for others—a thoroughly likeable character. Dylan was equally intelligent and likeable, especially with his curiosity and empathy.
The story was well-plotted with a significant subplot that rose naturally out of what seemed like a coincidental meeting, but which ended up playing a major part in the Dylan-chases-Casey story. There was also a strong underlying Christian thread with Casey's views on faith, but this was subtle and never got in the way of the story.
And the ending was excellent, setting Casey and Dylan up for a sequel . . . which I now want to read as soon as possible! Recommended for all suspense fans.
Thanks to Zondervan and NetGalley for providing a free ebook for review.
About Terri Blackstock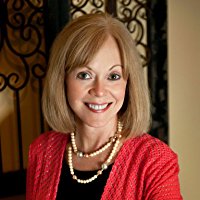 Terri Blackstock is a New York Times best-seller, with over six million copies sold worldwide. She has had over twenty-five years of success as a novelist. Terri spent the first twelve years of her life traveling in an Air Force family. She lived in nine states and attended the first four years of school in The Netherlands. Because she was a perpetual "new kid," her imagination became her closest friend. That, she believes, was the biggest factor in her becoming a novelist. She sold her first novel at the age of twenty-five, and has had a successful career ever since.
In 1994 Terri was writing for publishers such as HarperCollins, Harlequin, Dell and Silhouette, when a spiritual awakening drew her into the Christian market. As she was praying about her transition, she went on a cruise and noticed that almost everyone on the boat (including her) had a John Grisham novel. It occurred to her that some of Grisham's readers were Christians, and that if she wrote a fast-paced thriller with an added faith element, she might just find her niche. As God would have it, Christian publishers were showing interest in the suspense genre, so she quickly sold a four-book series to Zondervan. Since that time, she's written over thirty Christian titles, most of them suspense novels.
You can find Terri Blackstock online at:
Website | Facebook | Twitter | YouTube
About If I Run
Casey knows the truth. But it won't set her free.
Casey Cox's DNA is all over the crime scene. There's no use talking to police; they've failed her abysmally before. She has to flee before she's arrested . . . or worse. The truth doesn't matter anymore.
But what is the truth? That's the question haunting Dylan Roberts, the war-weary veteran hired to find Casey. PTSD has marked him damaged goods, but bringing Casey back can redeem him. Though the crime scene seems to tell the whole story, details of the murder aren't adding up.
Casey Cox doesn't fit the profile of a killer. But are Dylan's skewed perceptions keeping him from being objective? If she isn't guilty, why did she run?
Unraveling her past and the evidence that condemns her will take more time than he has, but as Dylan's damaged soul intersects with hers, he is faced with two choices: the girl who occupies his every thought is a psychopathic killer . . . or a selfless hero. And the truth could be the most deadly weapon yet.
You can find If I Run online at:
Amazon | ChristianBook | Goodreads | Koorong
You can read the introduction to If I Run below: