The Ladies of Ivy Cottage is the second book in the Tales From Ivy Hill series by beloved Christian Regency author Julie Klassen. There are a lot of characters to keep straight, so while this is a standalone story, it might help if you've read the first book in the series, The Innkeeper of Ivy Hill. And recently. I've read it, but it was over a year ago. I remembered the main plot points, but had forgotten some of the minor characters who are now major characters.
The Ladies of Ivy Cottage is historical romance but only to a degree. Ivy Hill has plenty of single ladies (and single gentlemen), but it's less a romance and more a gentle ongoing story of everyday village life, complete with village intrigues. It's not a fast-paced novel, but neither does it drag.
I enjoyed the slower pace, the reminder of a time when life wasn't ruled by phone notifications but by the arrival of the Mail coach. I enjoyed the slow getting-to-know new characters, and being reintroduced to familiar characters. As always, I enjoyed the subtle-but-there presentation of Christianity (although The Ladies of Ivy Cottage certainly has even less of a faith message than some of her previous works).
The Ladies of Ivy Cottage was a delightful step back into another time.
Recommended for fans of village tales such as Elizabeth Gaskell's Cranford, Lawanna Blackwell's Gresham Chronicles, or Jan Karon's Mitford. And fans of Jane Austen. Of course.
Thanks to Bethany House Publishers and NetGalley for providing a free ebook for review.
About Julie Klassen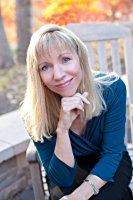 Julie Klassen loves all things Jane–Jane Eyre and Jane Austen. She worked in publishing for sixteen years and now writes full time. Three of her novels have won the Christy Award for Historical Romance. Her book, The Silent Governess, was also a finalist in the Minnesota Book Awards, ForeWord Reviews Book of the Year Awards, and Romance Writers of America's RITA Awards. Julie is a graduate of the University of Illinois. She and her husband have two sons and live near St. Paul, Minnesota.
Find Julie Klassen online at:
Website | Facebook | Instagram | Pinterest | Twitter
About The Ladies of Ivy Cottage
Living with the two Miss Groves in Ivy Cottage, impoverished gentlewoman Rachel Ashford is determined to earn her own livelihood . . . somehow. When the village women encourage her to open a subscription library with the many books she has inherited or acquired through donations, Rachel discovers two mysteries hidden among them. A man who once broke her heart helps her search for clues, but will both find more than they bargained for?
Rachel's friend and hostess, Mercy Grove, has given up thoughts of suitors and fills her days managing her girls' school. So when several men take an interest in Ivy Cottage, she assumes pretty Miss Ashford is the cause. Exactly what–or who–has captured each man's attention? The truth may surprise them all.
Meanwhile, life has improved at the coaching inn and Jane Bell is ready to put grief behind her. Now if only the man she misses would return–but where is he?
As the women of Ivy Hill search for answers about the past and hope for the future, might they find love along the way?
Find The Ladies of Ivy Cottage online at:
Amazon | ChristianBook | Goodreads | Koorong
Read the introduction to The Ladies of Ivy Cottage below: