Artist Rivers Sullivan has the almost-perfect life …
Until her fiancé is gunned down by a drug addict just ten days before their wedding. A year later, she's on St. Simons Island, Georgia, preparing to pack up and sell the Barlow family cottage and art gallery, which she inherited from Jordan.
Here she meets Jordan's cousin, an ex-addict who tore Jordan's family apart when Jordan's younger sister died in Cooper's care. Jordan's family still blames Cooper for Susannah's death, although Jordan had been trying to reconcile with Cooper before his death. Rivers meets Cooper and finds he works in the gallery and runs a ministry for addicts, Re-Claimed.
Rivers doesn't want to have anything to do with addicts, past or present.
Jordan was murdered by an addict. His sister lost her life due to an addict's carelessness. Her mother is an alcoholic. Addicts can't be trusted. Yet she's attracted to Cooper, to his faith, to his passion for art. Almost against her will, Rivers finds herself getting involved in the gallery, in Re-Claimed, and with Cooper. But someone seems to want Re-Claimed closed, and is prepared to go to great lengths to make that happen …
The Art of Rivers is an excellent example of self-published Christian fiction.
The writing is top quality—as good as any Christian novel I've read. The characters feel real, and their conflicts a natural outworking of their personalities. There was no feeling that the conflict was contrived, or that the author had manipulated the characters to build the required tension. Some novels I read have an almost paint-by-numbers approach to the plot and characters, which doesn't make for an engaging read. The Art of Rivers had none of that, which was excellent.
The real strength is that The Art of Rivers is a novel with Christian characters doing their best to live a Christian life in a world full of sin.
This is something that's often missing from the novels from the large mainstream Christian publishers (many of which are owned by non-Christian multinational media conglomerates). While I'm happy to read these "Christian-lite" novels that have good stories and none of the content I'd rather not fill my mind with, it's great to have more serious Christian fiction that deals with real-world issues from a Christian perspective. Recommended.
The Art of Rivers by @JanetwFerguson is an excellent example of self-published Christian fiction, showing Christian characters doing their best to live a Christian life. #BookReview #ChristianRomance
Click To Tweet
Thanks to the author for providing a free ebook for review.
About Janet W Ferguson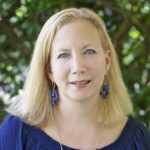 Janet W. Ferguson grew up in Mississippi and received a degree in Banking and Finance from the University of Mississippi. She has served her church as a children's minister and a youth volunteer. An avid reader, she worked as a librarian at a large public high school. Janet and her husband have two grown children, one really smart dog, and a few cats that allow them to share the space.
Click here to read my interview with Janet W Ferguson.
Find Janet W Ferguson online at:
Website | Facebook | Twitter | Pinterest | Instagram | BookBub
About The Art of Rivers
Rivers Sullivan bears both visible and invisible scars—those on her shoulder from a bullet wound and those on her heart from the loss of her fiancé during the same brutal attack. Not even her background as an art therapist can help her regain her faith in humanity. Still, she scrapes together the courage to travel to St. Simons Island to see the beach cottage and art gallery she's inherited from her fiancé. When she stumbles upon recovering addicts running her gallery, she's forced to reckon with her own healing.
After the tragic drowning of his cousin, James Cooper Knight spends his days trying to make up for his past mistakes. He not only dedicates his life to addiction counseling, but guilt drives him to the water, searching for others who've been caught unaware of the quickly rising tides of St. Simons. When he rescues a peculiar blond woman and her sketch pad from a sandbar, then delivers this same woman to his deceased grandmother's properties, he knows things are about to get even more complicated.
Tragic circumstances draw Cooper and Rivers closer, but they fight their growing feelings. Though Cooper's been sober for years, Rivers can't imagine trusting her heart to someone in recovery, and he knows a relationship with her will only rip his family further apart. Distrust and guilt are only the first roadblocks they must overcome if they take a chance on love.
Find The Art of Rivers online at: