About Mind Games
Kaely Quinn's talents as an FBI behavior analyst are impossible to ignore, no matter how unorthodox her methods. But when a reporter outs her as the daughter of an infamous serial killer, she's demoted to field agent and transferred to St. Louis.
When the same reporter who ruined her career claims to have received an anonymous poem predicting a string of murders, ending with Kaely's, the reporter's ulterior motives bring his claim into question. But when a body is found that fits the poem's predictions, the threat is undeniable, and the FBI sends Special Agent Noah Hunter to St. Louis.
Initially resentful of the assignment, Noah is surprised at how quickly his respect for Kaely grows, despite her oddities. But with a brazen serial killer who breaks all the normal patterns on the loose, Noah and Kaely are tested to their limits to catch the murderer before anyone else–including Kaely herself–is killed.
You can find Mind Games online at:
Amazon US | Amazon AU | ChristianBook | Goodreads | Koorong
My review of Mind Games
Jessica Oliphant is the daughter of a convicted serial killer. Now thirty-four, she's FBI profiler Kaely Quinn, dedicated to solving murder cases, especially serial killer cases. Her unorthodox methods have earned her supporters, opponents, and the attention of the wrong kind of people—like a persistent journalist. And a serial killer.
Kaely becomes part of the next investigation when the journalist receives an anonymous poem signalling a series of murders, and ending in Kaely's apparent suicide. The first body is discovered soon after the note is delivered. Now the race is on to identify the killer before Kaely—or anyone close to her—dies.
Mind Games is an apt title for a great thriller.
We know from the get-go that the killer is playing games with Kaely. The challenge is to work out who … I identified several possible suspects (one of whom was later murdered, so I was 100% wrong on that one!).
Kaely is an intriguing heroine. She's intelligent and likeable, and with a strong Christian faith. But she's also a damaged woman who suffers nightmares and finds it impossible to allow anyone to get close to her. She's estranged from her family, both respected and reviled at work as an object of curious fascination.
The other characters are also strong—they have to be, because Kaley is such a strong character. Noah and Kaley had some interesting conversations about faith. Yes, Mind Games is definitely Christian fiction, as there is a strong faith thread and some insightful lines about the nature of faith, and the nature of evil.
This is the first of the Kaely Quinn Profiler series.
I've read several of Nancy Mehl's earlier novels, but this is her best yet. I'll be looking forward to reading more about Kaely, Noah, and their colleagues. Recommended for fans of Christian thrillers from authors like Terri Blackstock and Carrie Stuart Parks.
Thanks to Bethany House and NetGalley for providing a free ebook for review.
About Nancy Mehl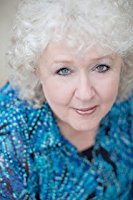 Nancy Mehl lives in Missouri, with her husband Norman, and her very active puggle, Watson. She's authored thirty books and is currently at work on a new FBI suspense series for Bethany House Publishing.
All of Nancy's novels have an added touch – something for your spirit as well as your soul. "I welcome the opportunity to share my faith through my writing," Nancy says. "It's a part of me and of everything I think or do. God is number one in my life. I wouldn't be writing at all if I didn't believe that this is what He's called me to do. I hope everyone who reads my books will walk away with the most important message I can give them: God is good, and He loves you more than you can imagine. He has a good plan especially for your life, and there is nothing you can't overcome with His help."
You can find Nancy Mehl online at:
Website | Suspense Sisters | Facebook
About Fire Storm
The next Kaley Quinn story releases this month—Fire Storm. Here's the description:
When FBI profiler Kaely Quinn's mother is diagnosed with cancer, Kaely takes time off work to go to Dark Water, Nebraska, to help her brother care for their mother. Upon her arrival, she learns of a series of fires in the small town, attributed by the fire chief to misuse of space heaters in the frigid winter. But Kaely is skeptical, and a search for a pattern in the locations of the fires bolsters her suspicions.
After yet another blaze devastates a local family, Kaely is certain a serial arsonist is on the loose. Calling upon her partner from St. Louis, Noah Hunter, and her brother's firefighter neighbor who backs Kaely's suspicions, Kaely and her team begin an investigation that swiftly leads them down a twisted path. When the truth is finally revealed, Kaely finds herself confronting a madman who is determined his last heinous act will be her death.
Hmm. Someone wants Kaely dead. There seems to be a theme here! I can't wait to read this.
Meanwhile, you can read the introduction to Mind Games below: