A year ago, Autumn Manning was the sole survivor of a train crash that killed twenty-two people in Chicago. She still hasn't recovered. She has nightmares. She hasn't returned to work. She can barely leave her apartment—except to tend the graves of the twenty-two victims. She's alive, but not living.
Psychologist and marriage counsellor Paul Elliott lost his wife in the crash. Life has gone on, propelled by the need to raise his two children. It's not easy, especially as his daughter is twelve and acting out. Then Reese disappears, and Paul finds her in the last place he'd expect: Autumn Manning's apartment.
Autumn and Paul begin an awkward friendship that begins with Reese but builds as circumstances bring them together. They both still need to heal, and the irony is that they heal through each other, and through a project inspired by Reese.
Life After is strong in every way.
An intriguing concept. A solid plot. Flawed and realistic characters. Excellent writing. A strong Christian message, but without being overwhelming. The story hints at secrets and lies, then reveals them at exactly the right time for maximum impact.
I definitely recommend Life After for readers looking for deeper Christian women's fiction.
Thanks to WaterBrook and NetGalley for providing a free ebook for review.
About Katie Ganshert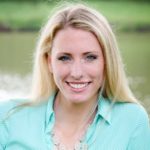 Award-winning author, Katie Ganshert, graduated from the University of Wisconsin in Madison with a degree in education, and worked as a fifth grade teacher for several years before staying home to write full-time. She was born and raised in the Midwest, where she lives with her family. When she's not busy penning novels or spending time with her people, she enjoys drinking coffee with friends, reading great literature, and eating copious amounts of dark chocolate.
Find Katie Ganshert online at:
Website | Facebook | Instagram | Pinterest | Twitter
About Life After
It could have been me.
Snow whirls around an elevated train platform in Chicago. A distracted woman boards the train, takes her seat, and moments later a fiery explosion rips through the frigid air, tearing the car apart in a horrific attack on the city's transit system. One life is spared. Twenty-two are lost.
A year later, Autumn Manning can't remember the day of the bombing and she is tormented by grief—by guilt. Twelve months of the question constantly echoing. Why? Why? Why? Searching for answers, she haunts the lives of the victims, unable to rest.
Paul Elliott lost his wife in the train bombing and wants to let the dead rest in peace, undisturbed and unable to cause more pain for his loved ones. He wants normalcy for his twelve-year-old daughter and young son, to see them move beyond the heartbreak. But when the Elliotts and Autumn are unexpectedly forced together, he fears she'll bring more wreckage in her wake.
In Life After, Katie Ganshert's most complex and unforgettable novel yet, the stirring prose and authentic characters pose questions of truth, goodness, and ultimate purpose in this emotionally resonant tale.
Find Life After online at:
Amazon | ChristianBook | Goodreads | Koorong
Read the introduction to Life After below: