I was hooked from the first page. And I don't say that often.
Feast for Thieves begins with Crazy Ake and Rowdy Slater robbing the bank in the small town of Cut Eye, Texas, in the spring of 1946. It's written in the first person, from Rowdy's point of view, and right from that first line two things are evident.
Marcus Brotherton can write.
And Rowdy Slater isn't your typical Christian fiction hero. After a near escape from death by drowning, Rowdy sees a vision …
I've read other books with fantastic opening hooks which simply fizzled out after that one fast-paced and original scene.
But Feast for Thieves just kept going. Rowdy decides to return the money, which causes the Sheriff of Cut Eye a few problems. Sure, it's good that he solves the crime, but the expense of a trial is sure going to put a dent in the county budget, and his chances of re-election. And he's got another problem: the town needs a preacher. So the Sheriff delivers Rowdy an ultimatum: spend a year as Cut Eye's minister, or go to jail.
Rowdy knows nothing about God, preaching or running a church, but he knows enough about jail not to want to go back there. Besides, he's got other problems, and he's going to need a paying job to fix them. It's an excellent plot, with lots of twists, yet all making perfect sense, and tied together with a cast of true characters.
Rowdy is an especially fascinating character.
He's a likeable rogue, with a little too much rogue to make a good minister. But he has his own unique way of dealing with problems—serving in the Army during some of the toughest battles means he probably knows more about human nature than many preachers.
But what really made Feast for Thieves stand out from the opening line was the voice. Rowdy isn't an educated man, and his language is earthy (but stops short of being vulgar). What makes him unique is his vocabulary and way of speaking—I could hear every word in that Texan accent, yet there wasn't a single misspelled word to indicate accent.
There was an Author's Note at the end in which Brotherton explained how he developed Rowdy's voice, and it took extensive research and a deep knowledge of the time and place. It took a lot of effort to make Rowdy's voice seem this easy and this authentic.
Writers, if you are ever looking for a way of expressing dialect without apostrophes and misspellings, read Feast for Thieves.
Men, if you've been bemoaning the fact that too many Christian novels are sappy romances (especially Amish romances!), read Feast for Thieves. While I'm not a betting man (well, I'm not a man at all, not that you could tell based on the spam email I receive), I'd say even your non-Christian friends would enjoy this one.
But it's not all manly stuff.
There is a solid and real Christian message in here, and even whispers) a little romance. I can absolutely see why Feast for Thieves was nominated for a Christy Award. Recommended.
Thanks to River North fiction for providing a free ebook for review.
About Marcus Brotherton
"Highly recommended. A hard-edged and well-crafted novel with smart prose, confident plotting, and characters you feel you know." –Michelle Burford, founding features editor of O, the Oprah Magazine, on "Feast For Thieves."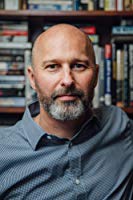 Marcus Brotherton is a New York Times bestselling author and collaborative writer known for his books with high-profile public figures, humanitarians, inspirational leaders, and military personnel.
He's the recipient of a Christy Award for writing excellence, an Editor's Choice distinction from the Historical Novel Society, and a Christopher Award for literature that "affirms the highest values of the human spirit."
Marcus appeared in the World War II documentary 'A Company of Heroes,' shown on PBS stations nationwide and internationally.
This is Brotherton's only novel, but he has an extensive nonfiction backlist including books about the Band of Brothers, and Grateful American with Gary Sinise.
Find Marcus Brotherton online at:
Website | Facebook | Goodreads | Twitter
About Feast for Thieves
Preaching or prison. An impossible choice for a man who usually solves his problems with a rifle or his fists.
Sergeant Rowdy Slater was the most incorrigible paratrooper in Dog Company during World War II. But after the war, when Rowdy robs a bank with the black-hearted Crazy Ake, he vows to turn his life around. The lawman, suspicious that Rowdy's confession is a sham, gives him an ultimatum: Rowdy must serve for one year as the town minister, or go straight to jail. Rowdy's choice? Preaching at the community church in Cut Eye, Texas, at the midpoint of nowhere and emptiness.
At first the job seemed easy, particularly since Rowdy took over for the willowy female missionary who held the church together while the men were at war. But when Crazy Ake shows up with a plan to make some quick cash, Rowdy becomes ensnared and is forced to make a deadly choice.
Find Feast for Thieves at:
Read the introduction to Feast for Thieves below: