It's First Line Friday! That means it's time to pick up the nearest book and quote the first line. Today I'm sharing from Falling for Grace by Janet W Ferguson: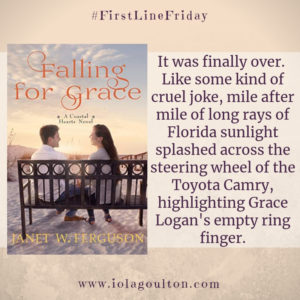 Falling for Grace is a novella in Janet W Ferguson's Coastal Hearts series, and I will confess I couldn't stop at this first line!
What's the book nearest you, and what's the first line?
About Falling for Grace
Grace Logan has taken a lot of tumbles in life, but she works hard to bounce right back. Dreams shattered and hope for reconciliation gone, Grace needs a place where she can pick herself up now that her ex is marrying her former best friend. Her boss's beach house in Santa Rosa seems like the perfect getaway, but stumbling into the attractive-but-damaged handyman next door isn't part of the plan.
After losing his infant son—and his marriage—Seth Gibbs is left with smothering grief and guilt. Bad memories make it difficult to find a new normal, so he escapes to his family's vacation home. Three years later, he's still in Santa Rosa with no plans to leave. That is…until Grace falls into his life.
You can find Falling for Grace online at:
Click the button to check out what my fabulous fellow FirstLineFriday bloggers are sharing today:
You can then click the link which will take you to the master page of all this week's #FirstLineFriday posts.
And you can click here to check out my previous FirstLineFriday posts.
Share your first line in the comments, and happy reading!