About Burden of Proof
Reeling from a negotiation gone wrong, FBI Special Agent April Ramos is caught off guard when a frazzled young woman shoves a crying baby into her arms, then disappears. Worry for the child's safety quickly turns to fear when a man claiming to be the girl's father abducts them at gunpoint. April puts her hostage negotiation skills to use to learn more about who she's dealing with: Jason Snyder, a fugitive accused of murder.
As Jason spins a tall tale about being framed for the killing of his business partner, April must sort through his claims to find the truth. A truth that becomes all the more evident after April overhears a conversation between Jason and the local sheriff and realizes something more sinister may be happening in their small town of Sweet Briar, Texas. But aligning herself with a known fugitive to uncover the burden of proof could cost April her job . . . or worse, her life and the lives of other innocent people.
Find Burden of Proof online at:
Amazon | ChristianBook | Goodreads | Koorong
Underwhelmed
I've read and enjoyed many of Diann Mills's romantic suspense novels, but Burden of Proof is not my favourite. The writing wasn't as smooth as I expected, but that wasn't my main issue.
My biggest problem was I had trouble relating to the main characters.
I think this was because we were first introduced to Jason Snyder as he kidnapped FBI negotiator April Ramos. This leaves reader-me with a problem: is Jason a good guy or an evildoer? He's trying to persuade us he's a good guy, but good guys don't evade arrest. Good guys don't kidnap and threaten FBI agents. And good guys are also known for lying, so his protests didn't convince me.
It also seemed odd that April seemed to trust Jason almost right away. I didn't buy it. Then there are hints she's attracted to him—not unusual given this is romantic suspense, but it still left me wondering if Agent April was thinking with her FBI agent brain, or was she suffering from a touch of Stockholm Syndrome?
The result is I spent too much of the first half of the novel second-guessing was-he-or-wasn't-he to actually get into the story and enjoy it. The character dynamics were clearer in the second half, but it was too late for me. I already hadn't connected with Jason, and had my doubts about April.
As for the actual evildoer … it was all a bit obvious. There was no mystery, not enough suspense, and one of the minor characters nicely summed up my problems with the romance plot in one line:
No relationship lasts when it begins with danger and supercharged emotions.
All in all, I was underwhelmed by Burden of Proof.
Thanks to Tyndale House and NetGalley for providing a free ebook for review.
About DiAnn Mills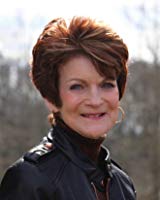 DiAnn Mills is a bestselling author who believes her readers should expect an adventure. She combines unforgettable characters with unpredictable plots to create action-packed, suspense-filled novels.
Her titles have appeared on the CBA and ECPA bestseller lists; won two Christy Awards; and been finalists for the RITA, Daphne du Maurier, Inspirational Reader's Choice, and Carol Award contests. Firewall, the first book in her Houston: FBI series, was listed by Library Journal as one of the best Christian fiction books of 2014.
DiAnn has been termed a coffee snob and roasts her own coffee beans. She's an avid reader, loves to cook, and believes her grandchildren are the smartest kids in the universe.
Find DiAnn Mills online at:
Website