It's First Line Friday! That means it's time to pick up the nearest book and quote the first line. Today I'm sharing from Burden of Proof by DiAnn Mills: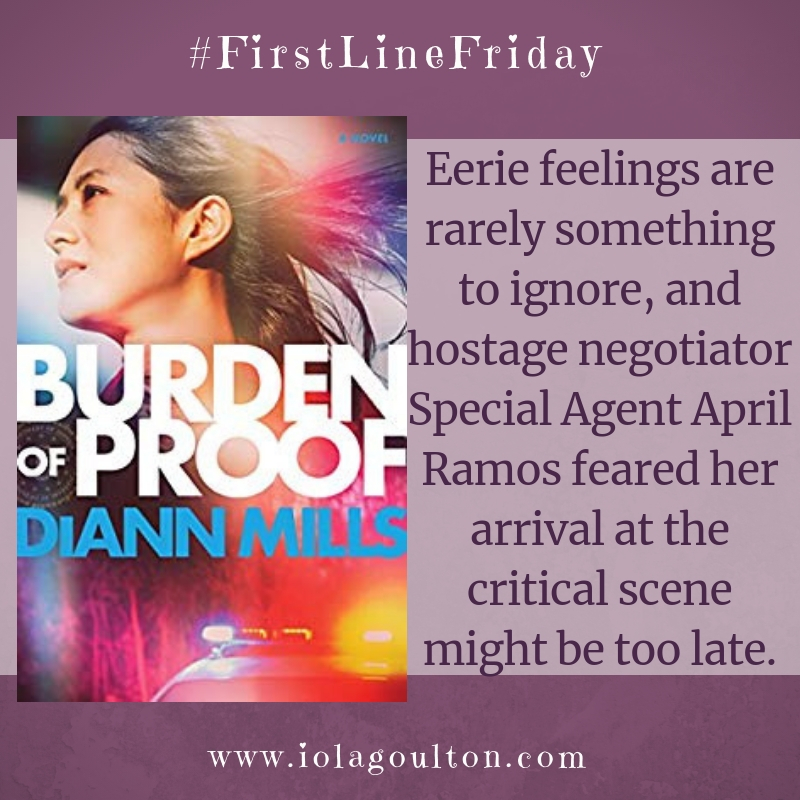 What's the book nearest you, and what's the first line?
About Burden of Proof
Reeling from a negotiation gone wrong, FBI Special Agent April Ramos is caught off guard when a frazzled young woman shoves a crying baby into her arms, then disappears. Worry for the child's safety quickly turns to fear when a man claiming to be the girl's father abducts them at gunpoint. April puts her hostage negotiation skills to use to learn more about who she's dealing with: Jason Snyder, a fugitive accused of murder.
As Jason spins a tall tale about being framed for the killing of his business partner, April must sort through his claims to find the truth. A truth that becomes all the more evident after April overhears a conversation between Jason and the local sheriff and realizes something more sinister may be happening in their small town of Sweet Briar, Texas. But aligning herself with a known fugitive to uncover the burden of proof could cost April her job . . . or worse, her life and the lives of other innocent people.
Find Burden of Proof online at:
Amazon | ChristianBook | Goodreads | Koorong
Click the button to check out what my fabulous fellow FirstLineFriday bloggers are sharing today:
You can then click the link which will take you to the master page of all this week's #FirstLineFriday posts.
And you can click here to check out my previous FirstLineFriday posts.
Share your first line in the comments, and happy reading!