Today I'd like to welcome author Janet Ferguson, to share about her new release, Magnolia Storms.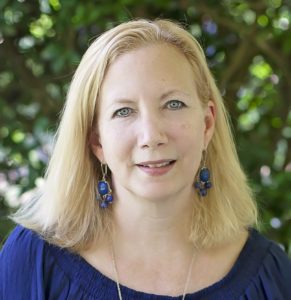 Janet W. Ferguson grew up in Mississippi and received a degree in Banking and Finance from the University of Mississippi. She has served as a children's minister and a church youth volunteer. An avid reader, she worked as a librarian at a large public high school. She writes humorous inspirational fiction for people with real lives and real problems.
Janet and her husband have two grown children, one really smart dog, and a few cats that allow them to share the space.
Welcome, Janet!
Hi! I'm super-excited to be your guest!
We'll start off with some quick questions so we get to know you a little better. I highlighted questions you could leave out if you want to make it shorter.
What is your favourite fruit?
So hard, because I love food! I'm going with watermelon, especially the ones grown in Smith County, Mississippi.
Which is your favourite season?
I'm a summer girl! I like warm weather.
I agree! Snow is pretty to look at, but too cold for my taste.
Where is your favourite place?
The warm weather above goes with my favourite place—the beach! Most any beach with the summer sun will do! I often go to Fort Morgan, Alabama, and read my favourite novels on the shore.
Then you'll love New Zealand. We have miles of beaches.
What is your favourite Bible verse?
Not sure how to pick just one, but I focused on Isaiah 61 in my first series. Each book took a part from the chapter as a theme.
What a great idea!
I love the thought of how God heals our broken, messed up places. That's the focus of my writing. Mostly because my own life has been pretty broken and messy at times, and I needed to grasp hold of His promises.
It's a reminder we all need to hear sometimes. 
What's something funny or quirky that not many people know about you?
Now, I have a lot here I could add, but I'll go with being deaf in one ear. I'm constantly circling people to get them on "my good ear," so I can hear them.
Now, let's talk about your book, Magnolia Storms. Here's the description off the back cover:
Maggie Marovich couldn't save her father or her home from Hurricane Katrina, but she's dedicated her life to meteorology so she can warn others when the monster storms approach. Except…she works three hours inland and rarely risks returning to her childhood hometown of Ocean Springs, Mississippi. Both her single-parent sister and the ship pilot Maggie once loved refused to leave the Coast, despite Maggie's requests. Now a hurricane's headed toward Mississippi, and Maggie's sister is seriously injured, leaving Maggie little choice but to head south—into the storm.
The water and tides flow through Josh Bergeron's veins, and he can't imagine giving up piloting—even for the love of his life, the infuriating Magnolia Marovich. He tried to move on without her, marrying and having a child. But after his wife abandons him and his little boy, his career choice is threatened by the weight of his parental responsibilities. Moving next door to Maggie's sister and sharing their child care seems like the perfect set-up. Until Maggie blows back into town.
Being forced to lean on Josh for help washes up the wreckage in Maggie's faith. Where was God during the destruction of Katrina? Why do some prayers seem to go unanswered? Between the hurricane looming in the Gulf and another gale raging in her heart, can Maggie overcome her past and find the trust to truly live?
Your tagline is Faith. Humor. Romance. Southern Style. What does "Southern Style" mean when it comes to fiction?
The Deep South in the U.S. is known to speak more slowly, do life a bit more slowly…in a bit more relaxed way. We use the word y'all and have quirky phrases, and we've fried most any food you can think of. The South is famous for friendliness and hospitality, like we're all one big family.
We wave at people in the neighbourhood and around town, when driving, whether you know them or not. We've often been trained in particular manners, like saying yes ma'am and no sir to anyone possibly older than us. It's just a certain flavour that permeates the area where I live.
I had heard you were famous for your fried food. It sounds great to me … waistline? What waistline?
How does this relate to Magnolia Storms? I see plenty of room for faith and romance in that book description, but humour? (Humor?) How does that fit in?
In my real life, I often joke during hard times, or find humour in the midst of despair at some small thing. Maybe some silly thing happens during a crisis, like my cat chasing its tail, which breaks up the moment. I believe laughter helps get us through in dark situations, so I plug in a bit of comedic relief for my characters and my readers—a little romantic comedy amidst deep issues.
What inspired the plot of Magnolia Storms?
Researching the port of Mobile, Alabama, for my book Blown Together, I emailed a college friend who is a ship pilot. When he answered my questions, he also included of videos ship pilots transferring from their pilot boat to larger vessels to guide them into the mouth of the Mississippi River. It was fascinating and beautiful and exciting. I knew right away, I had my next hero!
Here's a video (You might want to turn off the sound of the heavy metal music):

That brings Josh's work in Magnolia Storms to life.
The other part of the story is Hurricane Katrina. Once the levees broke in New Orleans, many people missed the fact that the storm obliterated whole towns and communities on our coastline and wreaked havoc over three hours inland. For Mississippians, time is often divided Before Katrina or After Katrina. There are still vacant lots on our coast after over a decade due to the storm surge that was up to thirty feet high in places.
Magnolia Storms is asking one of the big faith questions—where is God when bad things happen? How was that to write, and to answer?
Writing it was hard but cathartic. Prayer and God's answers are things I've struggled with as my mother died from Alzheimer's, my son went through multiple joint issues and surgeries, and other trying storms in life. I believe that if I am wrestling with my faith and understanding, at times, then perhaps others are, as well, and God helps me work through these hard issues by processing them with my characters.
Is there a particular theme or message in Magnolia Storms?
Yes! The words from Isaiah 43, "When you pass through the waters, I will be with you." My heroine has an elderly aunt who is funny and provides wisdom throughout the novel. She offers this advice:
"Your faith can't keep tossing and turning with the wind." Aunt Ruth rubbed up and down Maggie's shoulder. "Sooner or later, you must decide, 'Though He slay me, still I will trust Him.' Know that He is with you when you pass through the rough waters of life."
Magnolia certainly has to pass through the waters. So does Josh. It's a great message.
Magnolia Storms looks like it's the first book in a new series. Is this the case? What can you tell us about the future books in the series?
It is a new series. I think each book will be only loosely tied by the fact that they are all set at coastal locations…I think.
The next one I'm working on deals with drug addiction, and it is set in St. Simmons, Georgia. The title will be The Art of Rivers. Addiction is such a tragic issue that touches most families these days.
How is Magnolia Storms different from your previous series? Will the same readers enjoy it?
All my books have grappled with difficult issues, but perhaps, Magnolia Storms has a tad less humour than the previous novels. The heroine is tougher and more stubborn than some of my past heroines. I like her, though. She is someone who is dependable and will get the job done or die trying.
What do you find is the easiest part of the writing and publishing process? What's the hardest?
I love coming up with the idea for a story and creating! I hate editing and proofreading!!
What impact does your faith have on your writing?
Each time, I work through a sort of element of faith, so I'm studying, listening for messages from the Lord, and grappling to understand that piece of the puzzle. I think it helps me grow in faith.
Finally …
Where can we find Magnolia Storms online?
Amazon US | Amazon UK | Amazon AU | Kobo | iBooks | Nook | Goodreads
Where can we find you online?
Website | Facebook | Twitter | Pinterest | Instagram | BookBub
Thank you, Janet! It's been great to meet you, and learn more about Magnolia Storms.
Thank you!! I'm so happy to be here!
Readers, what question would you like to ask Janet? Let us know in the comments!