It's First Line Friday! That means it's time to pick up the nearest book and quote the first line. Today I'm sharing from Managing the Rock Star by Emma St. Clair: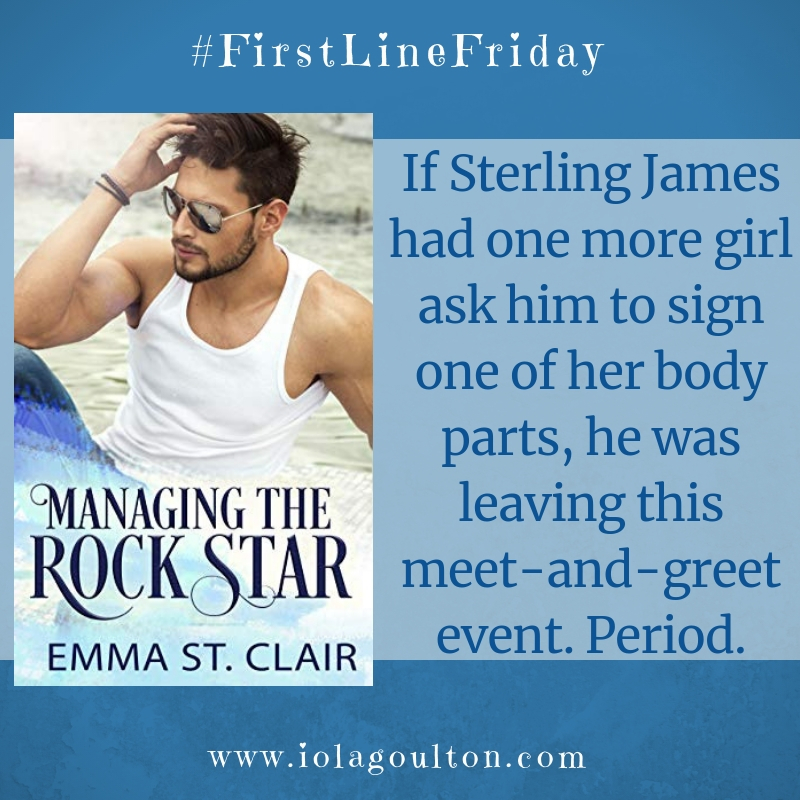 I know the cover isn't typical Christian fiction, but the story is clean and has a faith aspect, and it's funny. Think Becky Wade or Kara Isaac or Elizabeth Maddrey.
What's the book nearest you, and what's the first line?
About Managing the Rock Star
He was her rock star crush, then became her boss. When he wants to be more, things are bound to get complicated.
Reese Montgomery is a sought-after social media strategist, but fixing the PR mess of her teenage crush, rock star Sterling James might be too much. After a terrible first impression, her job is under threat and Reese needs to be a complete professional. Even when her feelings are anything BUT.
Rock star Sterling James is at a turning point in his career, but his negative image may hold him back. Hiring a social media strategist won't change his emotional family crisis, but can hopefully help him put on a better public face. But he has little faith in Reese, at least at first. As she continues to prove herself, Sterling has another problem: he is falling hard for the sweet, scheming woman sharing his tour bus.
When his family problems come to a head at the same time as a PR nightmare, both Reese and Sterling will have a crisis of faith and a choice to make: career or love?
You can find Managing the Rock Star online at:
Amazon US  | Amazon AU | Goodreads
Click the button to check out what my fabulous fellow FirstLineFriday bloggers are sharing today:
You can then click the link which will take you to the master page of all this week's #FirstLineFriday posts.
And you can click here to check out my previous FirstLineFriday posts.
Share your first line in the comments, and happy reading!