The Baggage Handler is a curious story. It's short, and covers a timespan of mere hours. It's more like three intertwined (longish) short stories than a typical novel.
But don't let that fool you into thinking it's shallow. It's not.
The story centres around three passengers who each pick up the wrong suitcase after a flight. Chaos naturally ensues, as they each have items in their luggage they need for the day. Each contacts the airline, and is directed to return to the airport.
There they meet with the Baggage Handler, and find it's not simply a case of swapping luggage. They each have baggage, and are challenged to deal with it rather than continue carrying it. Each of the three has unique baggage, but also baggage we can all relate to, so it's interesting to read their reactions.
The Baggage Handler puts a modern twist on well-known allegories, relating ancient yet relevant truths. The writing style is similar to authors such as James L Rubart or Billy Coffey. Rawlings is a strong writer and has woven some deep life and spiritual truths into three universal stories.
The Baggage Handler is a strong debut novel and would make a great book club read.
Thanks to Thomas Nelson and NetGalley for providing a free ebook for review.
About David Rawlings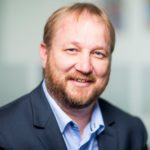 David Rawlings is an Australian author, and a sports-mad father-of-three who loves humor and a clever turn-of-phrase.
Over a 25-year career he has put words on the page to put food on the table, developing from sports journalism and copywriting to corporate communication.
Now in fiction, he entices readers to look deeper into life with stories that combine the everyday with a sense of the speculative, addressing the fundamental questions we all face. That starts with his debut novel – The Baggage Handler – a contemporary story that explores one question: What baggage are you carrying?
Find David Rawlings online at:
Website | Facebook | Instagram | Twitter
About The Baggage Handler
When three people take the wrong suitcase from baggage claim, their lives change forever.
A hothead businessman coming to the city for a showdown meeting to save his job.
A mother of three hoping to survive the days at her sister's house before her niece's wedding.
And a young artist pursuing his father's dream so he can keep his own alive.
When David, Gillian, and Michael each take the wrong suitcase from baggage claim, the airline directs them to retrieve their bags at a mysterious facility in a deserted part of the city. There they meet the enigmatic Baggage Handler, who shows them there is more in their baggage than what they have packed, and carrying it with them is slowing them down in ways they can't imagine. And they must deal with it before they can leave.
In this modern-day parable about the burdens that weigh us down, David Rawlings issues an inspiring invitation to lighten the load.
Find The Baggage Handler online at:
Amazon US | Amazon AU | ChristianBook | Goodreads | Koorong