It's First Line Friday! That means it's time to pick up the nearest book and quote the first line. Today I'm sharing from The Making of Mrs Hale by Carolyn Miller: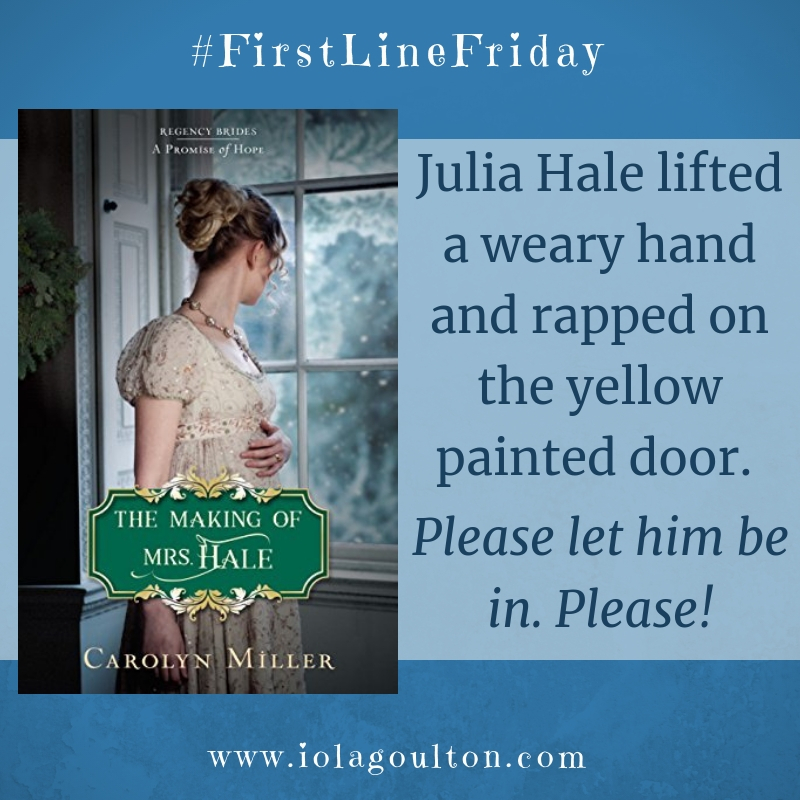 What's the book nearest you, and what's the first line?
About The Making of Mrs Hale:
Marry in haste, repent in leisure—Mrs. Hale is about to find out how painful that repentance can truly be.
Julia Hale ran off to be married in Gretna Green, following romance instead of common sense. But her tale isn't turning into a happily ever after. Her new husband is gone and she doesn't know where—or if he's ever coming back. Julia has no option but to head home to the family she betrayed by eloping and to hope they'll forgive her. Especially now that she might be carrying a baby from her brief marriage.
Carolyn Miller's clean and wholesome Regency romances continue with The Making of Mrs. Hale, following familiar characters as they learn how restoration can occur by finding hope and healing through a deep relationship with God. Full of rich historical details and witty banter, this series continues to draw in fans of Jane Austen, Sarah Ladd, and Julie Klassen.
You can find The Making of Mrs Hale online at:
Amazon | ChristianBook | Goodreads | Koorong
Click the button to check out what my fabulous fellow FirstLineFriday bloggers are sharing today:
You can then click the link which will take you to the master page of all this week's #FirstLineFriday posts.
And you can click here to check out my previous FirstLineFriday posts.
Share your first line in the comments, and happy reading!