I'm usually a huge fan of Jen Turano's witty dialogue and bordering-on-ridiculous plots. But Caught by Surprise didn't work for me. It has many strengths: strong characters who are definitely individuals. Quirky individuals. A romance plot. A mystery/suspense subplot. Plenty of humour. A Christian message that's clear yet understated and not at all preachy. All delivered in Jen Turano's unique writing style.
And yet it didn't work for me.
This could be a sign of the times. #MeToo remains in the news, and it's hard to find anything amusing about a society that forced a man and woman to marry simply because they'd been caught in a compromising position. (Specifically, being together for longer than a millisecond without a chaperone).
Sure, Gilbert Cavendish believed he was doing the honourable thing in offering to marry Temperance Flowerdew. But that's only because he was being portrayed as an honourable man. It's not much of a stretch to see a woman in a similar situation being forced to marry her abuser. Or (as almost happened) an honourable man being forced into marriage with a naive young woman being manipulated by selfish parents, sacrificing her at the altar of their position in society and requirement for an influx of cash to boost their coffers.
Maybe I'm overthinking this.
But then we get to Alice and Charles Cavendish. This subplot also had uncomfortable #MeToo echoes. We don't know the history behind their relationship. We only know that Charles is old enough to be Alice's father and they somehow got married (another overambitious father, perhaps?), only to discover they loathe each other.
Sure, that wasn't uncommon for the time (witness the marriage of Mr Collins and Charlotte Lucas in Pride and Prejudice). But did Alice choose to marry Charles, or was she forced? Or was it the marriage of a flighty young girl blinded by the idea of being a countess, and not realising that meant providing the aging earl with the obligatory heir and a spare?
Leaving these issues aside, I also found the breakneck pace and non-stop dialogue left me feeling as though there was never time to breathe.
Things kept happening. (This is a novel,so things happening is good.) But there was never a chance to have a break and gather my thoughts and decide if Temperance and Gilbert were really meant to be together. They both seem to have come to that conclusion, as does everyone of their (fictional) aquaintance, but I'm not convinced.
Oh, I'm sure they'll have an eventful marriage and I'm all for marriages based on friendship that builds into love (as opposed to attraction that builds into lust). But perhaps that was what was missing—the tripping from friendship into attraction. After all, it takes both to build a successful marriage. I suspect it was in there.
But it was buried beneath that non-stop dialogue and breakneck pace. Not to mention plenty of misunderstandings and bullets.
Jen Turano fans will want to buy and read this to round out the series. But those who haven't read and loved Behind the Scenes and Out of the Ordinary will probably prefer to begin at the beginning. Otherwise they have very little chance of following the quirks of the many characters in Caught by Surprise.
Thanks to Bethany House and NetGalley for providing a free ebook for review.
About Jen Turano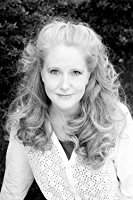 A USA Today Best-Selling Author, Jen Turano has written the critically acclaimed Ladies of Distinction series, and A Class of Their Own series, published through Bethany House Publishers. Her novel, After a Fashion, was chosen as a top pick from Romantic Times, as JenTuranowell as being named a top ten romance of 2015 from Booklist. It is also a nominee for Romantic Times 2015 Reviewers' Choice Award. Her book, A Most Peculiar Circumstance, was chosen as a top ten romance by Booklist in 2013. Her seventh book, Playing the Part, released in the spring of 2016, and will be followed by a new four-book series, Apart from the Crowd. When she's not writing, Jen spends her time outside of Denver with her husband and neurotic Cattle Dog, enjoying herself as an empty-nester since her son recently abandoned her for the college life.
Find Jen Turano online at:
About Caught by Surprise
Miss Temperance Flowerdew is on her way to work when a stranger suddenly grabs her off the street and sends her on a Chicago-bound train before she can figure out what happened.
When Mr. Gilbert Cavendish is called upon to rescue a missing woman, he follows the trail to Chicago only to discover that the woman is his good friend Temperance. Before they can discover who was behind the abduction, they're seen alone together by a New York society matron, putting their reputations at risk.
Gilbert is willing to propose marriage–except Temperance will have none of it. She's finally stepped out of the shadow of her relations and won't give up her independence. But when it becomes clear the misunderstanding in Chicago has escalated into a threat on her life and followed her to New York, accepting Gilbert's help in solving the mystery may lead to more than she ever could have dreamed.
Find Caught by Surprise online at:
Amazon | ChristianBook | Goodreads | Koorong