It's First Line Friday! That means it's time to pick up the nearest book and quote the first line. Today I'm sharing from Beneath a Camperdown Elm by Janet Chester Bly: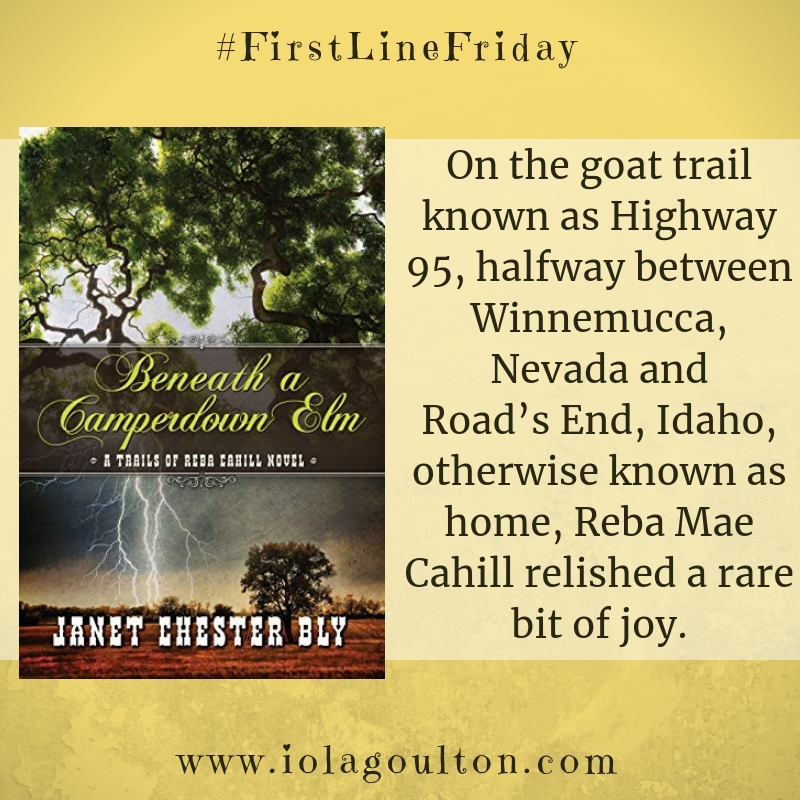 I haven't read any of Janet Chester Bly's books before, so I'm looking forward to starting this.
What's the book nearest you, and what's the first line?
About Beneath a Camperdown Elm
Reba's scary stalker is locked up in jail. She finally snatches a rancher fiancé. Her runaway mother returns home. Reba has everything she ever wanted. But Grandma Pearl has disappeared! Is Reba about to lose it all?
Reba Mae Cahill brims with joy. Her life's perfect. She's finally bringing her prodigal mother, Hanna Jo, home to Road's End from a Reno mental institute. With them is Jace McKane, her fiancé, who promises to help fight the unjust lawsuit that threatens the family ranch.
Then Hanna Jo claims she sees alleged wild horses in the mountain valleys as she learns her son and ex-husband's fishing boat sank in an Alaskan sea. Can Reba keep her from flipping out for good?
As Grandma Pearl struggles with guilt, health issues, and finding purpose for the rest of her life, will the new church building project provide an answer?
Will any of the answers be found in the mysteries of an old Scottish elm?
You can find Beneath a Camperdown Elm online at:
Click the button to check out what my fabulous fellow FirstLineFriday bloggers are sharing today:
You can then click the link which will take you to the master page of all this week's #FirstLineFriday posts.
And you can click here to check out my previous FirstLineFriday posts.
Share your first line in the comments, and happy reading!