The Space Between Words starts in Gatingy, France, with Adeline Baillard as the narrator.
It's 1695, the time of the persecution of the Huguenots, those Protestants who refused the King's orders to convert to Catholicism. The story then skips forward to 2015, to a first-person account from thirty-four year-old Jessica. Jessica is living in Paris with her friends Patrick and Vonda.
They are about to leave Paris to go touring around Southern France. First, they decide to celebrate with one last night of fun. Vonda suggests a concert at the Bataclan nightclub.
On 14 November 2015, the night of the real-life massacre.
I read The Space Between Words in June 2017, in the week after the London Bridge attack and the benefit concert for the victims of the Manchester attack. That brought home all the more the horror and confusion of the Bataclan bloodbath.
I don't' want to say any more about the plot because *spoilers*.
Instead I'll say this is Jessica's story. It's about searching for what has been lost. About finding hope in the midst of  loss. It's also a story of struggle and courage and faith, especially Adeline's faith and that of her fellow Huguenots. It's inspiring.
The story has a strong spiritual thread. This is mostly in the past words of Adeline Baillard, but also in the present conversations between Jessica and her companions. It's not a "traditional" Christian novel in that the main characters aren't Christians
But there is a definite faith journey.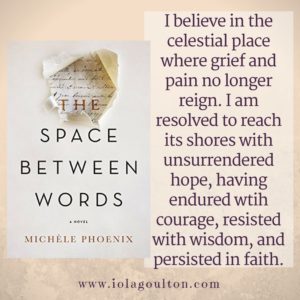 It reminds me of The Writing Desk by Rachel Hauck, The Long Highway Home by Elizabeth Musser, and The Five Times I Met Myself by James L Rubart. The writing was strong, and the story unpredictable (in a good way).
I recommend The Space Between Words for those looking for a novel with depth.
Thanks to Thomas Nelson and NetGalley for providing a free ebook for review.