Things go wrong when college student Martina Ramos takes a job as a body double for a famous teen singer while the singer goes to rehab. Instead of spending her time at film openings or in clubs, Martina is kidnapped. The first line takes us straight into the story: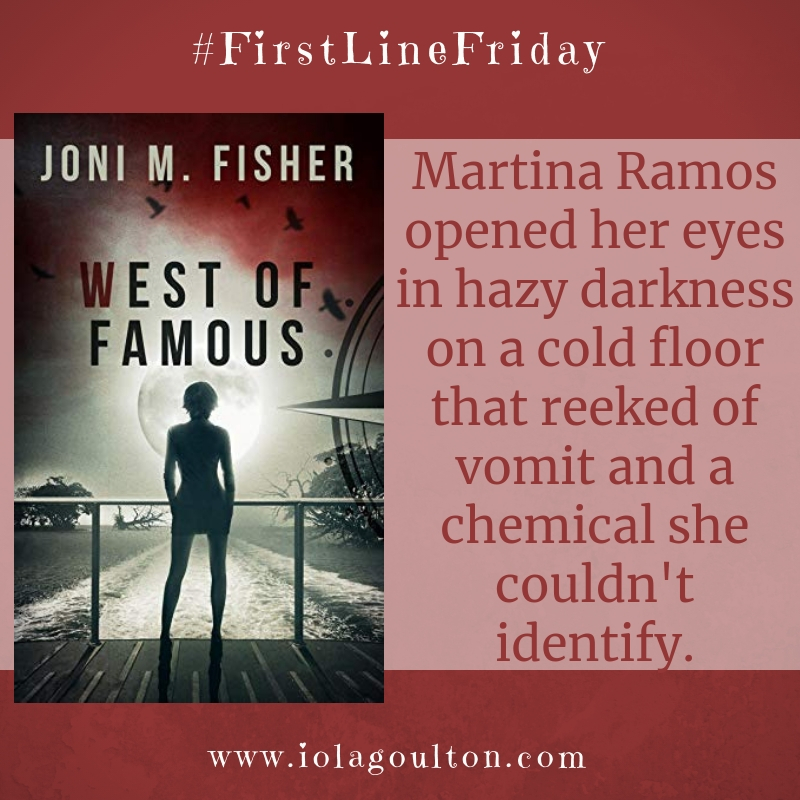 West of Famous is the third book in a series, following South of Justice and North of the Killing Hand. I haven't read the earlier books and West of Famous can definitely be read as a standalone novel. But it is obvious West of Famous is part of a series because the characters obviously know each other (and the reader knows them). This can be a little confusing at first, but does give the characters depth. It also means the author isn't tempted to overshare their backstory, as often happens in first novels.
It does mean there are a lot of characters, and it takes a while to sort out some of the relationships. But that's not entirely important: the essential part of the story is that Martina has been kidnapped by two men who think she's a pop star, and who won't hesitate to kill her if they find out she's merely a graduate student at Oxford.
So the story has two parts:
Martina trying to stay safe on board the yacht she'd being held captive on, and Ruis's efforts to find her before time runs out. The two parts meld together perfectly, giving us an action-packed story that never lets up on the tension.
The plotting is excellent, as are the characters and the way they work together to save Martina. The story is set in 2010, when social media wasn't quite so prevalent as it is today, so it is believable that Martina is able to pass herself off as Ruby (especially as she's surrounded by Ruby's friends and boyfriend). There is another aspect of the plot that works better in 2010, but I won't say what because #Spoilers.
I was also impressed by the faith elements.
Martina and her family are strong Catholics, and the importance of their faith comes through strongly. But it's a realistic kind of faith, not something that feels like it's been added for the sake of it (as often happens in inspirational/Christian fiction).
I very much enjoyed West of Famous, and recommend it to fans of thrillers from authors like Terri Blackstock and CC Warrens. I'm looking forward to reading the earlier books in the series.
Thanks to the author for providing a free ebook for review.
About Joni M Fisher
Find Joni M Fisher online at:
About West of Famous
This contemporary suspense story, set in Florida, features a strong female protagonist facing the issues of identity, mortality, and survival after kidnappers mistake her for a celebrity. The boating community known as Loopers play a key role in the story.
This is the third book in the Compass Crimes series, which is a collection of stories linked by an ensemble cast of characters. Each book can stand alone. Each book features a different heroine and a life-changing crime. The stories are linked by the alliances, friendships, and occupations of the characters common to the stories. While some of the stories contain a romantic subplot, some do not. In the aftermath of each crime, the relationships between these characters grow deeper and stronger.
You can find West of Famous online at:
Amazon US | Amazon UK | Goodreads | Kobo
You can read the introduction to West of Famous below: