It's Throwback Thursday! Today I'm resharing my review of The Making of Mrs Hale, the final book in Carolyn Miller's Regency Brides: A Promise of Hope series (and my personal favourite in that series). Even better, the first book in her new series releases this week: A Hero for Miss Hatherleigh. I'm looking forward to reading it soon!
This review previously appeared at Australasian Christian Writers.
We first met Julia Hale in Winning Miss Winthrop, when Julia ran away to Gretna Green to marry Thomas Hale in defiance of her family's wishes.
But, as the old saying goes, "Marry in haste; repent at leisure."
Julia is left destitute after her husband disappears. Six months later, she has sold everything she can and has no choice but to return to her friends and family in London and ask for help. They are pleased to welcome her home, believing she is either an abandoned wife or (possibly) a widow. They are less pleased when Thomas Hale returns home …
This means The Making of Mrs Hale follows one of the lesser-used romance tropes: a married couple falling in love. Or perhaps they are rediscovering their love, as Julia clearly still has feelings towards Thomas and vice versa. But Julia has to fight to keep what she has—a marriage to a man she loves.
There is also an exciting suspense thread. Thomas is concerned his ending up in a Spanish prison may not have been an accident. This threatens him, Julia, and their attempts to rebuild their relationship while surrounded by disapproving family members.
I have always been a big Regency romance fan, and Carolyn Miller has established herself as a leading author in the Christian Regency genre. Her research is spot on, yet never gets in the way of the story (I wish this was universal, but I find there are more authors who think they can write authentic Regency than actually can).
In contrast, Carolyn Miller consistently comes up with realistic yet detailed plots.
She fills her novels with realistic, complex characters facing issues that are true to the historic period, yet resonate with modern readers. Her novels are also definitely (and perhaps defiantly) Christian. They're not just "clean". Her characters are forced to evaluate themselves and their relationship with God, which is a refreshing contrast to a lot of the fiction being published by CBA publishers. Overall, I recommend Carolyn Miller and The Making of Miss Hale to anyone looking for genuine Christian Regency fiction.
Thanks to Kregel Publications and NetGalley for providing a free ebook for review.
About Carolyn Miller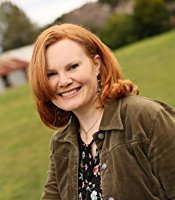 Carolyn Miller lives in the beautiful Southern Highlands of New South Wales, Australia. She is married, with four gorgeous children, who all love to read (and write!).
A longtime lover of Regency romance, Carolyn's novels have won a number of Romance Writers of American (RWA) and American Christian Fiction Writers (ACFW) contests. She is a member of American Christian Fiction Writers and Australasian Christian Writers. Her favourite authors are classics like Jane Austen (of course!), Georgette Heyer, and Agatha Christie, but she also enjoys contemporary authors like Susan May Warren and Becky Wade.
Her stories are fun and witty, yet also deal with real issues, such as dealing with forgiveness, the nature of really loving versus 'true love', and other challenges we all face at different times.
Find Carolyn Miller online at:
Goodreads| Pinterest | Twitter
About The Making of Mrs Hale
Marry in haste, repent in leisure—Mrs. Hale is about to find out how painful that repentance can truly be.
Julia Hale ran off to be married in Gretna Green, following romance instead of common sense. But her tale isn't turning into a happily ever after. Her new husband is gone and she doesn't know where—or if he's ever coming back. Julia has no option but to head home to the family she betrayed by eloping and to hope they'll forgive her. Especially now that she might be carrying a baby from her brief marriage.
Carolyn Miller's clean and wholesome Regency romances continue with The Making of Mrs. Hale, following familiar characters as they learn how restoration can occur by finding hope and healing through a deep relationship with God. Full of rich historical details and witty banter, this series continues to draw in fans of Jane Austen, Sarah Ladd, and Julie Klassen.
You can find The Making of Mrs Hale online at:
Amazon | ChristianBook | Goodreads | Koorong
Read the introduction to The Making of Mrs Hale below: