It's Throwback Thursday! Today I'm sharing my review of RITA finalist Grounded Hearts, the debut novel from Jeanne M Dickson. This review first appeared at International Christian Fiction Writers.
Nan O'Neil is the midwife in the village of Ballyhaven, County Clare, Ireland, in World War II. She's a widow, and still hasn't got over the death of her poet husband, or her regret that they were never able to have children. She's now being pursued by Shamus Finn, a pig farmer who is now a member of the Local Defence Force … and one who enjoys the power rather too much.
When an injured Canadian flyboy shows up on her doorstep in the middle of the night, Nan decides to help him.
She's a nurse. She can't turn him away. Even though Ireland is neutral—if caught, he'll go straight to an internment camp, and she'll face prison. Personally, I found this aspect fascinating. I'd known Ireland was neutral during World War II, but I'd never stopped to wonder why. Grounded Hearts told me, and showed me a uniquely Irish way of dealing with the problem.
The writing style reminded me of the British and Irish fiction I've enjoyed over the years from authors such as Beth Moran. There were a few too many "she thoughts" for my taste, but that small weakness was more than made up for by the understated Irish humour and wordplay.
But if you're looking for a traditional Christian historical romance set in World War II Ireland, you're looking in the wrong place.
Grounded Hearts has an irreverent Irish flavour. There are references to the rhythm method, marital relations (and relations outside marriage), and body parts. It's a long way from obscene, but conservative Christian readers may well find it offensive.
But if you're the kind of reader who's looking for fresh well-written fiction with an original plot, a little suspense, a little romance, and a lot of Irish humour, then you'll enjoy Grounded Hearts.
Thanks to Waterfall Press, Litfuse Publicity, and NetGalley for providing a free ebook for review.
About Jeanne M Dickson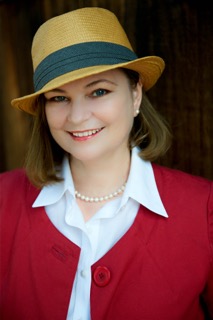 Jeanne was born into an Irish-American family, the only girl in a family with four brothers. Her Irish grandmother lived with them, and was a constant source of stories about life in Ireland and the saints and ancestors long gone from this earth. She credits her mother, her aunts, and grandmother for her love of storytelling. Today she lives in Coastal San Diego with her fabulous husband, her two wonderful girls, and a dozen disobedient rose bushes.
Jeanne writes romances set in WWII Ireland and also contemporary romances either set in Ireland or there'll be Irish/Irish American characters.
You can find Jeanne M Dickson online at:
Website | Facebook | Instagram | Twitter
About Grounded Hearts
In the midst of World War II, Ireland has declared herself neutral. Troops found on Irish soil must be reported and interned, no matter which side they are fighting for. When midwife Nan O'Neil finds a wounded young Canadian pilot at her door, she knows she's taking a huge risk by letting him in. Not only is she a widow living alone, but if caught harboring a combatant, she'll face imprisonment.
Still, something compels Nan to take in "flyboy" Dutch Whitney, an RAF pilot whose bomber has just crashed over County Clare. While she tends to his wounds and gives him a secret place of refuge, the two begin to form a mutual affection—and an unbreakable bond.
But Nan has another secret, one that has racked her with guilt since her husband's death and made her question ever loving again. As Nan and Dutch plan his escape, can he help restore her faith?
You can find Grounded Hearts online at:
Amazon US | Amazon AU | ChristianBook | Goodreads | Koorong
You can read the introduction to Grounded Hearts below: