It's Throwback Thursday! Today I'm bringing you my review of The Dishonorable Miss DeLancey, the final book in the Legacy of Grace trilogy by Carolyn Miller. I'm sharing it because it was my favourite of the series, and the first book in her new series is due out in March! I'm looking forward to reading it—The Winsome Miss Winthrop.
About The Dishonorable Miss DeLancey
Will a damaged reputation and desire for society's approval thwart the legacy of grace?
Tainted by scandal and forced to leave London for the quieter Brighton countryside, the Honorable Miss Clara DeLancey is a shadow of her former society self. She's lost the man she loved to another and, in a culture that has no patience for self-pity, is struggling with depression. A chance encounter brings her a healing friendship with the sisters of an injured naval captain. But Clara's society mama is appalled at the new company she's keeping.
Captain Benjamin Kemsley is not looking for a wife. But his gallant spirit won't let him ignore the penniless viscount's daughter–not when she so obviously needs assistance to keep moving forward from day to day. Can he protect his heart and still keep her safe?
When they're pushed into the highest echelons of society at the Prince Regent's Brighton Pavilion, this mismatched couple must decide if family honor is more important than their hopes. Can they right the wrongs of the past and find future happiness together–without finances, family support, or royal favor?
My Review
It is a truth universally acknowledged that all romance novels since Jane Austen are mere copies.
Well, not really. As we know, we are all unique, so our journeys to love are also unique. But many romance novels do offer a conscious or subconscious nod to Austen's work, and The Dishonorable Miss DeLancey is no exception.
At five-and-twenty, Miss DeLancey is close to being on the shelf. Her marital prospects are not helped by a mama who combines Mrs Bennett's silliness with Lady Catherine's snobbery, a brother who has gambled away her dowry, and a father who reminded me of Mr Bennett: intelligent and personable, but influenced by his wife. There are also echoes of Persuasion in the decorated sea captain who was rejected in love when a lowly lieutenant.
Carolyn Miller takes these well-known tropes and gives them new life in The Dishonorable Miss DeLancey, the final book in her Legacy of Grace series—and the best (well, in my view).
Miss DeLancey had the misfortune to fall for someone who didn't return her regard, and was then humiliated for it. It didn't help that her brother gambled away her dowry, making it difficult for her to find another suitor. (Yes, there were several times when I thought Richard DeLancey needed to take a long walk off a short pier.)
Ben Kemsley has his own problems. He's spent most of his prize money caring for the families of the men he captained, especially those who didn't make it back to England. The Prince Regent has promised him a reward, but Prinny is famously self-centred and how exactly does one ask the Prince of Wales for a promised fortune?
My favourite aspect of Clara DeLancey's story was the focus on her spiritual journey.
In fact, that was the major focus of the first half of the novel. Clara's turning point comes when she realises there is more to Christianity than church. She sees the need to change from the dissatisfied person she had been. And she saw the need to put that change in God's hands. Fortunately, she has her new friends to guide her … new friends with a handsome brother.
I also enjoyed the references to the marine chronometer. I read Longtitude by Dava Sobel many years ago. She explained that we've long been able to calculate latitude through the position of the stars and sun. But we can't calculate longtitude accurately without a clock that can remain accurate throughout a long ocean voyage.
I love this kind of mix of fact and fiction, because it was the lack of such a clock caused the shipwreck that made Captain Ben Kemsley a minor Regency celebrity. There were also several scenes set in and around the famed Brighton Pavillion, redecorated by the Prince Regent at great expense and with dubious taste, and I enjoyed this as well.
Overall, an excellent Christian Regency romance with element of suspense. Recommended!
Thanks to Kregel Publications for sending me a free paperback to review.
About Carolyn Miller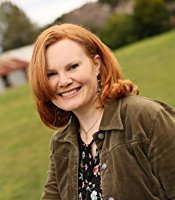 Carolyn Miller lives in the beautiful Southern Highlands of New South Wales, Australia. She is married, with four gorgeous children, who all love to read (and write!).
A longtime lover of Regency romance, Carolyn's novels have won a number of Romance Writers of American (RWA) and American Christian Fiction Writers (ACFW) contests. She is a member of American Christian Fiction Writers and Australasian Christian Writers. Her favourite authors are classics like Jane Austen (of course!), Georgette Heyer, and Agatha Christie, but she also enjoys contemporary authors like Susan May Warren and Becky Wade.
Her stories are fun and witty, yet also deal with real issues, such as dealing with forgiveness, the nature of really loving versus 'true love', and other challenges we all face at different times.
Find Carolyn Miller online at:
Goodreads| Pinterest | Twitter
Find The Dishonorable Miss DeLancey online at:
Amazon US | Amazon AU | Amazon UK