I've just found out Siri Mitchell has a new book coming … so I'm resharing my review of one of her historical romances, Flirtation Walk.
About Flirtation Walk
West Point History Comes Alive in this Warmhearted Romance
Trying to escape the shambles her con-man father has made of their reputation, Lucinda Curtis arrives in West Point, New York, determined to land a husband from the military academy. Campbell Conklin is first in his class and preparing to embark upon a storied career in the U.S. Army. Lucinda thinks Campbell will make the perfect husband . . . as long as he does not find out about her father.
Seth Westcott also has taken a liking to Lucinda. He's kind, smart . . . and working extremely hard to graduate last. Tradition states that the worst cadets are assigned to the cavalry out west. And west is where Seth must head to track the swindler who stole all of Seth's mother's money. Seth is smart enough to vie for the top spot, but life isn't fair and this is his chance to catch the man who ruined his family. It's too bad Campbell is all shine and no substance, but Lucinda will surely see through all of that, won't she?
My Review
Seth Westcott is the top cadet in his year at West Point Military Academy, a rank which sees him destined for a coveted position in the Corps of Engineers. When he finds his sister has been swindled of the money from the sale of their family farm, he decides a cavalry posting out West would be a better idea . . . somewhere he can protect his sister, and hunt down the swindler. To do that, he's going to have to become an Immortal—ranked at the bottom of the class.
When Miss Lucinda Pennyworth's father dies, she goes to stay with family in Buttermilk Falls, near the military academy where her uncle lectures. Here she learns that some of what her father told her over the years wasn't true, and she begins to question the values he raised her with, and his views on the military . . . and on God.
Lucinda finds herself having to learn a new set of rules.
Rules in which she considers others and doesn't do everything to best meet her own needs, but considers the needs of others and the lessons mistakes can sometimes teach us. It's not an easy journey, especially as many of her father's philosophies and sayings are as real in 2016 as they were for Lucinda in 1855. Lucinda also learns she doesn't have to look and be perfect all the time: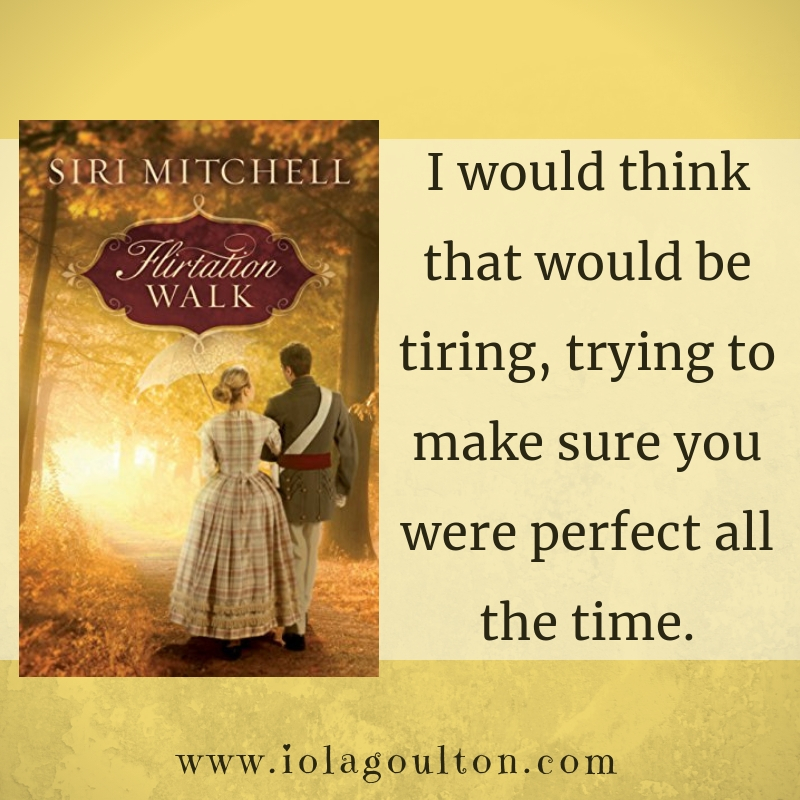 Perhaps. But even today many people fall into the trap of believing that it's enough to look perfect and behave properly, that our underlying motivations and beliefs are less important than the image we project. (Social media doesn't help this perception, when people curate their lives to only show the nice bits). While this isn't necessarily a Christian message, it's still a strong message, one worth thinking about, and Flirtation Walk did it well. I've found some of Siri Mitchell's novels push a theme at the expense of the story, but this didn't.
I liked the way Flirtation Walk emphasised that God is a god of love, not rules.
But I would have liked to have seen the characters show some faith in God, rather than merely attending church (which seemed to be more of doing the right thing). But I did like the overall theme about the balance between obeying the rules and doing the right thing.
Thanks to Baker Publishing Group and NetGalley for providing a free ebook for review.
Read the introduction to Flirtation Walk below: