Fire Storm is the second book in Nancy Mehl's Kaely Quinn Profiler series.
Mind Games introduced us to Kaely Quinn, daughter of a notorious serial killer and now a talented FBI profiler specialising in profiling and catching serial killers. But she's a damaged person, and most of her colleagues find it difficult to work with her and her unconventional methods.
In Fire Storm, Kaely's mother is dying of cancer, and her brother has persuaded her to visit their mother in her new hometown of Darkwater, Nebraska. Kaely and her mother don't have the best of relationships, as her mother basically checked out of motherhood when she found out her husband was a serial killer. In Marcie's defence, I can't say I'd be all rainbows and unicorns if I found I was married to a serial killer and had two children with him.
But Kaely hasn't even arrived at Marcie's house before she discovers all is not well in the town of Darkwater. There have been a few recent fires, which the fire chief says were caused by cheap space heaters. But Kaely immediately sees a pattern in the locations.
Kaely believes there is a serial arsonist at work.
It's not a spoiler to say that the fire chief doesn't believe her … and that the fire chief is wrong. Kaely's challenge is to get the fire chief or police or FBI to believe her before there are more fires and more people die.
I have to say that the first chapter of Fire Storm isn't gripping (although the Prologue certainly was). Chapter one has a lot of backstory, describing Kaely's history and her personal problems. As such, those who haven't read Mind Games will have no trouble picking up Fire Storm. (Those who have read Mind Games may well find themselves skimming this first chapter).
But the story soon picks up, and turns into a white-knuckle ride with lots of twists and turns.
There's plenty of conflict in the arson story, and there's also plenty of conflict at home. Kaely and her mother have never been close, which provides an added layer. And there's the nice vet and volunteer fireman next door to consider.
I found Fire Storm a quick and fact-paced read, perfect for any time when you're worried your nails might be getting too long. Recommended for fans of Carrie Stuart Parks, Terri Blackstock, and other Christian thriller authors.
Thanks to Bethany House Publishers and NetGalley for providing a free ebook for review.
About Nancy Mehl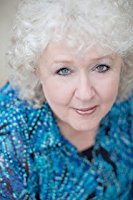 Nancy Mehl lives in Missouri, with her husband Norman, and her very active puggle, Watson. She's authored thirty books and is currently at work on a new FBI suspense series for Bethany House Publishing.
All of Nancy's novels have an added touch – something for your spirit as well as your soul. "I welcome the opportunity to share my faith through my writing," Nancy says. "It's a part of me and of everything I think or do. God is number one in my life. I wouldn't be writing at all if I didn't believe that this is what He's called me to do. I hope everyone who reads my books will walk away with the most important message I can give them: God is good, and He loves you more than you can imagine. He has a good plan especially for your life, and there is nothing you can't overcome with His help."
You can find Nancy Mehl online at:
Website | Suspense Sisters | Facebook
About Fire Storm
When FBI profiler Kaely Quinn's mother is diagnosed with cancer, Kaely takes time off work to go to Dark Water, Nebraska, to help her brother care for their mother. Upon her arrival, she learns of a series of fires in the small town, attributed by the fire chief to misuse of space heaters in the frigid winter. But Kaely is skeptical, and a search for a pattern in the locations of the fires bolsters her suspicions.
After yet another blaze devastates a local family, Kaely is certain a serial arsonist is on the loose. Calling upon her partner from St. Louis, Noah Hunter, and her brother's firefighter neighbor who backs Kaely's suspicions, Kaely and her team begin an investigation that swiftly leads them down a twisted path. When the truth is finally revealed, Kaely finds herself confronting a madman who is determined his last heinous act will be her death.
You can find Fire Storm online at:
Amazon | ChristianBook | Goodreads | Koorong