It's been a while since I've read a Ginny Yttrup book and her previous books were all straight women's fiction, so it was a surprise to pick up Convergence and find it's suspense. A good surprise, mind you!
Convergence opens with an unnamed woman taking her first tandem skydive. Except someone is watching …
The story then flips to January 2017, as Denilyn Rossi is heading to work—she's the department chair of psychology at Pacific Covenant University in California. Deni is also a published author, although the success of her first book destroyed her marriage. She's now been asked to write a second book
It's not clear whether Chapter One is before or after the Prologue, which is kind of the point—the timeline skips forward and back, back and forward, until it all converges in the present (hence the title). We then skip eight years back in time, to 2009. We don't know why, but we already know this is significant. The we're back in 2017, but in the head of another character—Adelia Sanchez. And on it goes.
Convergence is a story that unwinds and reveals layers and secrets as you read.
It breaks several of the rules of writing (don't start with a prologue is just the first). But the whole plot—and the secrets—are unravelled in such a way they pulled me right in. What is the significance of January 9th? What happened eight years ago? How did Deni get that scar on her head? Why is her friend and colleague, Ryan, so worried about her?
I don't want to say too much more because *spoilers*.
Just believe me when I say this is an excellent novel, one with unexpected twists and turns and surprises (and it's hard to surprise me). The plot is complex without being convoluted, the characters are believable, and the writing is top notch. All in all, it's a great suspense read.
You know how sometimes when you finish a novel it's so good that you want to muse on it for a few days rather than starting another book? This is one of those novels. Recommended.
Thanks to Shiloh Run Press and NetGalley for providing a free ebook for review.
About Ginny Yttrup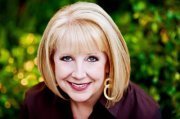 Ginny L. Yttrup is the award-winning author of Words, Lost and Found, Invisible, Flames, and Home which released April 1, 2017. She writes contemporary women's fiction and enjoys exploring the issues everyday women face. Publishers Weekly dubbed Ginny's work "as inspiring as it is entertaining." When not writing, Ginny coaches writers, critiques manuscripts, and makes vintage-style jewelry for her Esty shop, Storied Jewelry. She loves dining with friends, hanging out with her adult sons, or spending a day in her pajamas reading a great novel. Ginny lives in northern California with Bear, The Entitled Pomeranian.
You can find Ginny Yttrup online at:
Website | Facebook | Instagram | Twitter
About Convergence:
A psychologist paralyzed by fear. A mother propelled by love. A stalker bent on destruction.

Psychology professor Dr. Denilyn Rossi contends that the past is either a shadow that haunts us or a force that propels us. The choice is ours, she tells her students. What she doesn't tell them is that her own past is a shadow she can't seem to shake. Fear has immobilized her and is taking a costly toll.
Adelia Sanchez, however, has embraced Dr. Rossi's teaching. She is ready to confront fear and render it powerless—using the trauma of her past to propel her to entrap the man who stalked and brutally attacked her.
As Denilyn's past and Adelia's present converge at the Kaweah River, a dangerous man bent on destruction threatens them both. Will he uncover the secret Deni and Adelia have fought so hard to protect?
Find Convergence online at:
Amazon US | Amazon AU | ChristianReads | Goodreads | Koorong