It's First Line Friday! That means it's time to pick up the nearest book and quote the first line. Today I'm sharing from Maybe It's You by Christy Hayes: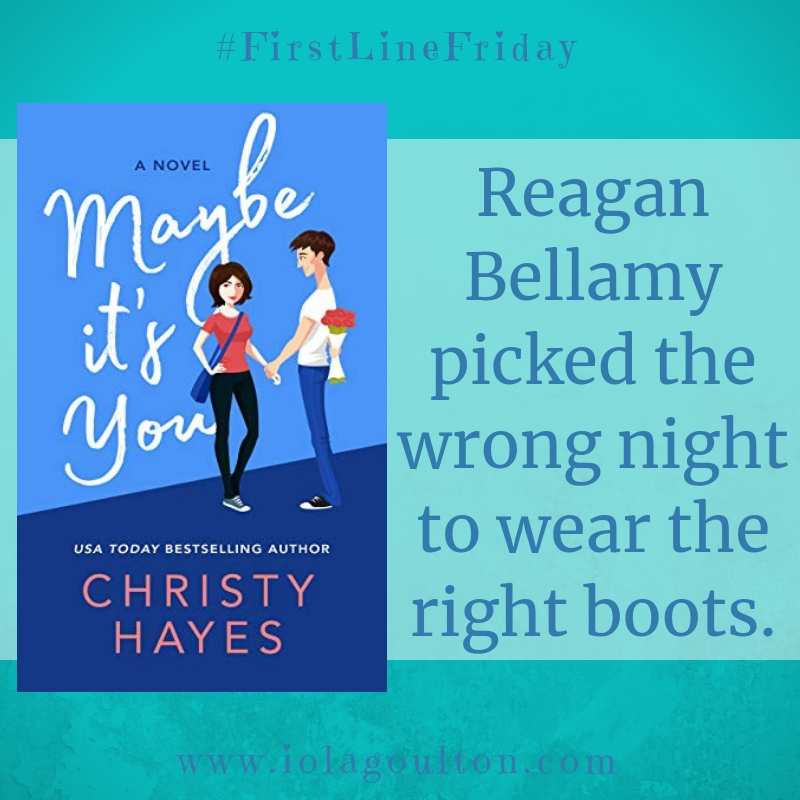 What's the book nearest you, and what's the first line?
About Maybe It's You
Reagan Bellamy's neighbor is everything she never wanted. Despite her best efforts to ignore him and fly under his radar, Dash Carter refuses to wither under her stare and leave her alone. So what if he's totally hot? Who cares if her roommates think he's adorable? Reagan's too busy to waste time on a loser with musical pipe dreams. Between classes, studies, and her need to stay ahead of the game, she's got too much on her plate to give him the time of day.
Dash Carter is a man on a mission. He's done a total 180 and for the first time in a long time feels optimistic about the future. He's clean, he's on a good path, and he's surrounded himself with people who make life better, not worse. Unfortunately, his neighbor—the one girl who's always piqued his interest—still thinks he's a slacker, bothering Dash more than it should.
Acting on an opportunity to show Reagan he's a changed man, Dash inadvertently puts her in a difficult position with her new boss and sends her down a path she hasn't the time or inclination to pursue. Desperate to make things right, Dash becomes more invested in her life despite warnings from his mentor to not get involved with someone whose beliefs don't match his own.
Reagan's not sure what it says about her that she'd rather deal with Dash the deadbeat than Dash the Bible thumper. The more she digs her heels in against the religious freaks she's forced to interact with, the more she begins to question everything she's built her life upon. When the tide begins to turn in Reagan's heart and her worldview flips upside down, trusting God means putting everything on the line, including her heart.
You can find Maybe It's You online at:
Amazon US | Amazon AU | Goodreads
Click the button to check out what my fabulous fellow FirstLineFriday bloggers are sharing today:
You can then click the link which will take you to the master page of all this week's #FirstLineFriday posts.
And you can click here to check out my previous FirstLineFriday posts.
Share your first line in the comments, and happy reading!