The concept behind the Tuscan Legacy series is an original and fascinating concept: nine books by seven authors, each featuring one of the eight Rossi cousins. The settings are fabulous—from Tuscany to Australia, via Rome, Reading, New York, and Texas.
Solu Tu is the Australian connection, and is the tenth book from Australian author Narelle Atkins. It's my favourite of the series (and not just because I worked with Narelle to refine and edit the story). It's set in Sydney, and if we can't have a Christian romance set in New Zealand, then Australia is the next best thing.
And there's cricket, which is one of my favourite armchair sports. (If you know nothing about cricket, check out my Wandering Wednesday post at International Christian Fiction Writers last week).
A fun friendship formed over cricket and church soon turns serious as Sienna Rossi and Dave Maxwell realize how much they have in common. Both are teachers, both are Christians, both are family-focused.
Both have family problems—Sienna with her cousins, and Dave with his grandmother. They work at the same school, attend the same church, and soon find they have a mutual attraction. But neither are planning to stay in Sydney …
Solu Tu is a unique twist on an age-old story, with a fabulous Australian setting and an underlying family mystery throughout the series. Recommended for all lovers of contemporary Christian romance, especially those who like novels with international settings.
About Narelle Atkins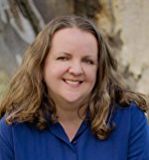 A fun loving Aussie girl at heart, Narelle Atkins was born and raised on the beautiful northern beaches in Sydney, Australia. She has settled in Canberra with her husband and children.
A lifelong romance reader, she found the perfect genre to write when she discovered inspirational romance. Narelle's contemporary stories of faith and romance are set in Australia.
Find Narelle Atkins online at:
Website | Facebook | Instagram | Pinterest | Twitter
About Solo Tu:
Home means everything to Sienna Rossi.
Four years ago, Sienna defied her father by moving to Australia to obtain her teaching qualifications. Her grand plan is shaken by her father's unexpected death and a trip back to Tuscany for her grandmother's eightieth birthday where she renews her close bond with her sister, Alessa.
Teacher Dave Maxwell likes the freedom of his nomadic lifestyle. He works contract-to-contract, moving to different high schools around Australia. He's in Sydney for a season, caring for his grandma while his aunt is on an extended overseas vacation.
Back in Sydney, Sienna moves in with her Aussie cousins and starts her first teaching job, torn between her dream for a future in Australia and her longing for home. Sienna and Dave work at the same school, attend the same church, and quickly become friends. They are drawn together by circumstances and an undeniable attraction.
But their idyllic time together is temporary. Can the girl from Tuscany and the boy from Australia risk everything for love?
You can find Solo Tu online at:
You can read the introduction to Solo Tu below: