Ava Larson is a lapsed Christian who's about to marry her long-term boyfriend.
His family has planned what they hope will be the New York wedding of the year when she realises the relationship is over. That you can't marry someone "for the guests and the gifts". Or for his mother. But disestablishing an over-the-top wedding is expensive, and Ava is left with bills even her high-end fashion job can't pay for.
Now alone, Ava has to decide what she wants out of life, which leads to her making new choices, some good and some bad. It's an edgier plot—Ava hasn't lived the perfect Christian life—but that's what makes it real. She's an excellent character because she doesn't make all the best choices and she doesn't know all the answers.
I Always Cry at Weddings isn't "typical" Christian fiction.
There are no Amish, no almost-perfect characters, no people living in happy-happy land, and the only church is the home base of a soup kitchen ministering to Manhattan's down-and-out, not more pot-luck dinner in a small-town family fellowship.
I Always Cry at Weddings isn't "typical" Christian fiction. But it's real. Excellent characters and a strong plot from an author who brings the location and the people alive. Recommended. #ChristianFiction #ChristianRomance
Click To Tweet
But it's real. Excellent characters with plenty of growth, a strong plot from an author who brings the location and the people alive, and an understated Christian message. Excellent reading, recommended for fans of Sally Bradley, Beth Moran and other authors of atypical Christian fiction. I'll be watching for Sara's next novel.
About Sara Goff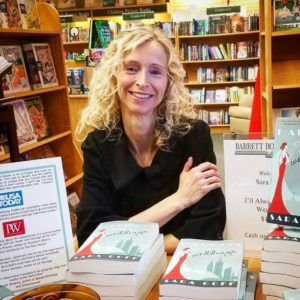 Author Sara Goff spent seven years as a New York City fashion designer and merchandiser before leaving her career to make a difference in the world. She founded the global educational charity Lift the Lid, Inc. in 2010, which supports underprivileged schools and encourages young people to exercise their creative expression through writing.
Sara attended Sewanee Writers' Conference and received two fellowships to Summer Literary Seminars in St. Petersburg, Russia and Nairobi, Kenya. While living in Manhattan, she especially loved her work as a writing instructor for Holy Apostles Soup Kitchen Writers Workshop, founded by author Ian Frazier, and for The National Arts Club's creative writing program for students. Sara is a public speaker and bipartisan contributor for Fox Business.
After seven years living in Stockholm, Sweden and then London, England, Sara is back in the States, enjoying the seasons in Connecticut, with her Swedish husband, their two sons, and sweet little girl…a Yorkie named Pia.
Find Sara Goff online at:
Website | Facebook | Instagram | Pinterest | Twitter
About I Always Cry at Weddings
Ava is ready to set Manhattan abuzz with her wedding. At least until she realizes her fiancé wants marriage for the wrong reasons, and maybe she does, too. In a move as daring as a red satin dress, she does the unthinkable–she calls it off, taking on more debt than she can afford and returning to the single life.
When Ava loses her job in fashion and her mom succumbs to cancer, she decides to revamp her life entirely, taking a vow of chastity and going for her dream of becoming a professional dancer.
Change brings trial and error, and she's inching closer to financial ruin, but an undercover cop promises a new romance…and an unexpected friendship with the homeless guy beneath her stoop brightens her days.
When her carefully balanced life teeters out of control, weddings aren't the only thing to make her cry. Ava has to figure out what life she really wants to live and what in the world love–unconditional love–means.
Find I Always Cry at Weddings online at:
You can read the beginning of I Always Cry at Weddings below: