It's Throwback Thursday! Today I'm resharing my review of Heart on the Line the second novel (and third book) in Karen Witemeyer's Ladies of Harper's Station series. This review first appeared at Australasian Christian Writers in June 2017.
Heart on the Line is a standalone story, but you'll probably understand the women's colony and their attitude to men better if you at least read No Other Will Do first (and perhaps Worth the Wait as well).
Like No Other Will Do, Heart on the Line is a departure from Karen Witemeyer's witty historical romances. It's more of a witty romantic suspense.
It starts with a Prologue, which I found rather confusing—we were introduced to a lot of off-stage characters in short order, perhaps too many. The point was introducing the central conflict of the novel: that Herschel Mallory has discovered Chaucer Haversham isn't the rightful heir of his father's fortune, a discovery Mallory pays for with his life, leaving his daughter an orphan on the run.
Chapter One opens a year later. Grace Mallory is hiding in the women's colony of Harper's Station, and working as the local telegraph operator. After hours, she chats online (on the telegraph line, not our online!) with Mr A., the telegraph operator in a neighbouring town. All is well, until she receives a late-night coded message that might mean her hiding place has been found.
When Amos Bledsoe hears Miss G might be in danger, he travels to Harper's Station to protect her—and to see if the chemistry between them sparks in real life the way it does over the lines. Of course, there is the obvious issue of a man turning up in a women's colony after they've all been warned to expect bad men … but that's sorted out in a most original manner.
Heart on the Line is an excellent novel.
Grace and Amos are both great characters, and their shared occupation made for some great moments. The writing was excellent, a perfect mix of humour, romance and suspense, with just the right injection of the Christian faith. There was also a subplot with the man-shy Helen, and I loved that as much as the main Grace/Amos romance plot.
And there was plenty of suspense. The identity of the evildoer was kind of obvious to the reader, but was equally obvious to Grace (yay for intelligent heroines!). That added to the fun—how would she keep him from knowing she was onto him? And who would find the missing documents first!
Recommended for all romantic suspense fans.
Thanks to Bethany House and NetGalley for providing a free ebook for review.
About Heart on the Line
Grace Mallory is tired of running, of hiding. But when an old friend sends an after-hours telegraph transmission warning Grace that the man who has hunted her for nearly a year has discovered her location, she fears she has no choice. She can't let the villain she believes responsible for her father's death release his wrath in Harper's Station, the town that has sheltered her and blessed her with the dearest friends she's ever known.
Amos Bledsoe prefers bicycles to horses and private conversations over the telegraph wire to social gatherings with young ladies who see him as nothing more than an oddity. His telegraph companion, the mysterious Miss G, listens eagerly to his ramblings every night and delights him with tales all her own. For months, their friendship–dare he believe, courtship?–has fed his hope that he has finally found the woman God intended for him. Yet when he takes the next step to meet her in person, he discovers her life is in peril, and Amos must decide if he can shed the cocoon of his quiet nature to become the hero Grace requires.
Find Heart on the Line online at:
Amazon | ChristianBook | Goodreads | Koorong
About Karen Witemeyer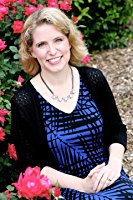 For those who love to smile as they read, bestselling author Karen Witemeyer offers warm-hearted historical romances with a flair of humor, feisty heroines, and swoon-worthy Texas heroes. A transplant from California, Karen came to Texas for college, met a cowboy disguised as a computer nerd, married him, and never left the state that had become home.
Winner of the HOLT Medallion, ACFW Carol Award, Inspirational Reader's Choice Award, National Reader's Choice Award, and a finalist for both the RITA and Christy Awards, Karen is a firm believer in the power of happy endings. . . and ice cream. She also loves to reward her readers. Every month she gives away two inspirational historical novels to someone from her newsletter list and offers substantial bonus content on her website.
Find Karen Witemeyer online at: