It's First Line Friday, which means it's time to open the book nearest you and share the first line. Today I'm sharing from The Carpenter's Daughter by Jennifer Rodewald.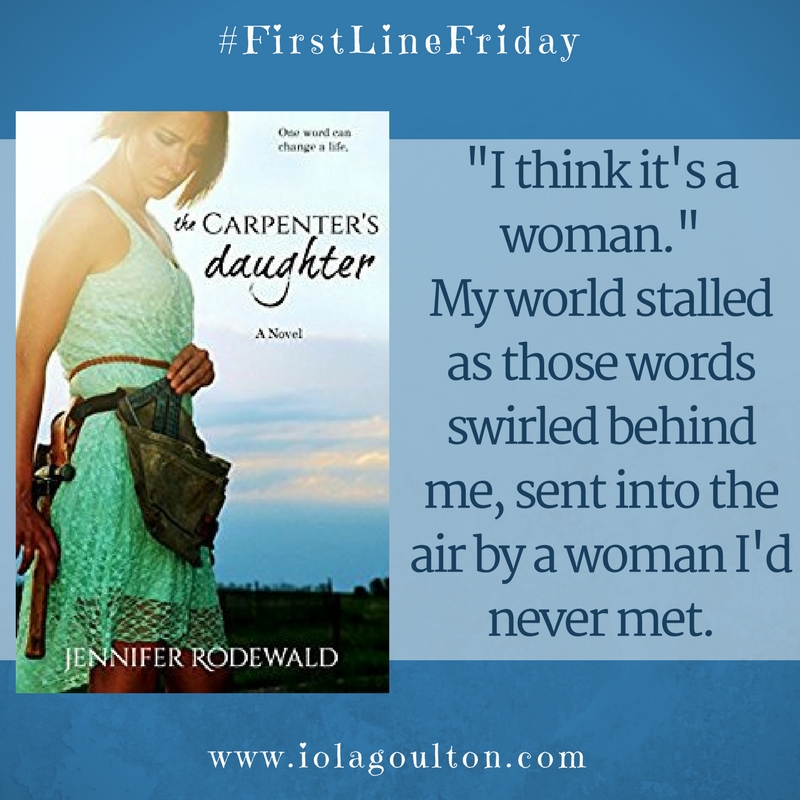 It's a great first line, and a great novel. I loved it. (Because this is me. Once I read a first line like that, I can't stop until I read the last line, and all the lines in between.)
One thing that really got me was how well Jennifer Rodewald writes emotion. If you're wondering how my own writing is going, it's ground to a complete halt as I realise how much I've got to learn. You can blame Jennifer Rodewald for that. #SorryNotSorry
About the Book
One word can change a life.
Sarah Sharpe has grown up as a carpenter's daughter, knowing only the rough and work-heavy world of her father's blue-collar profession. Abandoned by her mother as a baby, she's lived twenty-one years content to drive nails at her dad's side. Following her father into the world of construction was a natural path, and she took it without a second thought. But a harsh comment about her "butch" appearance sends her on a search for identity.
Enter handsome and easygoing Jesse Chapman, the roofer she meets on her first foray into volunteer work for Homes For Hope. In every way, the quirky man is her opposite—confident, a people kind of guy, and most importantly, happy. His likable qualities continue to draw her in, and for some reason he keeps coming back to her. But they can't be more than friends—he's made that crystal clear. Except for a handful of times…and the confusion is driving her crazy.
Sarah's quest for self-definition becomes more tangled than she ever imagined, and she discovers that the journey will take her deeper than clothes and makeup. Filling the void in her heart becomes an obsession she cannot escape. How far is she willing to go to discover who she really is?
Amazon US | Amazon AU | Amazon UK | Goodreads
Click the button to check out what my fabulous fellow FirstLineFriday bloggers are sharing today:
You can then click on the link which will take you to the master page, which holds all this week's #FirstLineFriday posts.
And you can click here to check out my previous FirstLineFriday posts.
Share your first line in the comments, and happy reading!