I loved A Single Spark, and I'm sure that's not just because I picked it up after struggling through a frustrating YA fantasy trilogy (which only served to remind me why I rarely read fantasy).
Aiden Spark is the thirty-two-year-old former lead singer of a hearthrob boy band.
Now he's an Associate Professor in Women's Studies at a local college (a transition which isn't explained, but which I'd love to know more about!).
Abby Dearan is a morning DJ with a local radio station, and has just received a text from the mysterious Professor Z Spark. It's obviously a wrong number, but she wants to know more.
So she asks her listeners for help.
Fun (and sparks) ensue as Aiden and Abby meet, fight, make up, and fight again. And again. Plenty of sparks fly as the two are attracted, but are brought together by circumstances and driven apart by misconceptions. It's a quick, fun read, especially when Aiden's four brothers get involved …
Yes. Four brothers. A Single Spark is the first book in the Spark Brothers series. And four more brothers means four more books. Yay! It means you can read this as a standalone novel, and then wait for the rest of the series. Because if you like contemporary Christian romance with humour and sass, you'll definitely want to read all the Spark Brothers series as much as I do.
Recommended for anyone looking for a fun, light romance with solid Christian content.
Thanks to the author for providing a free ebook for review.
About Liwen Ho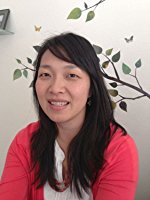 Liwen Y. Ho works as a chauffeur and referee by day (AKA being a stay at home mom) and an author by night. She writes sweet and inspirational contemporary romance infused with heart, humor, and a taste of home (her Asian roots).
In her pre-author life, she received a Master's degree in Marriage and Family Therapy from Western Seminary, and she loves makeovers of all kinds, especially those of the heart and mind. She lives in the San Francisco Bay Area with her techie husband and their two children, and blogs about her adventures as a recovering perfectionist
You can find Liwen Ho online at:
About A Single Spark
He's a pop singer running from his past. She's a deejay who's given up on men. Little do they know divine intervention has a plan for them.
Former boy band hottie, Aiden Spark, distanced himself from everything he valued—faith, family, and fame—when he lost his girlfriend. A decade later, he's still hiding behind his grief when he accidentally texts a woman who's all too curious about his identity.
Burned by the men in her life, deejay Abby Dearan has chosen to focus on her newfound faith in God and use her radio presence for good. Her plans are thwarted though when a text message—and the irritating man who sent it—won't leave her in peace.
Aiden can't forget the woman who reminds him so much of his first love; Abby can't remember the last time a man made her feel so beautiful. To make matters worse, it's impossible to avoid one another when their siblings and friends—not to mention, divine intervention—keep pushing them together. Will the sparks igniting between them end up in flames or romance?
Find A Single Spark online at:
Read the introduction to A Single Spark: