It's First Line Friday, which means it's time to open the book nearest you and share the first line. Today I'm sharing from Before We Were Yours by Lisa Wingate. It's an NYT bestseller. It's also the winner of the 2017 Goodreads Choice Awards for historical fiction (which is kind of odd, as it's set in the past and the present). From what I've read so far, it totally deserves the award.
Here's the first line: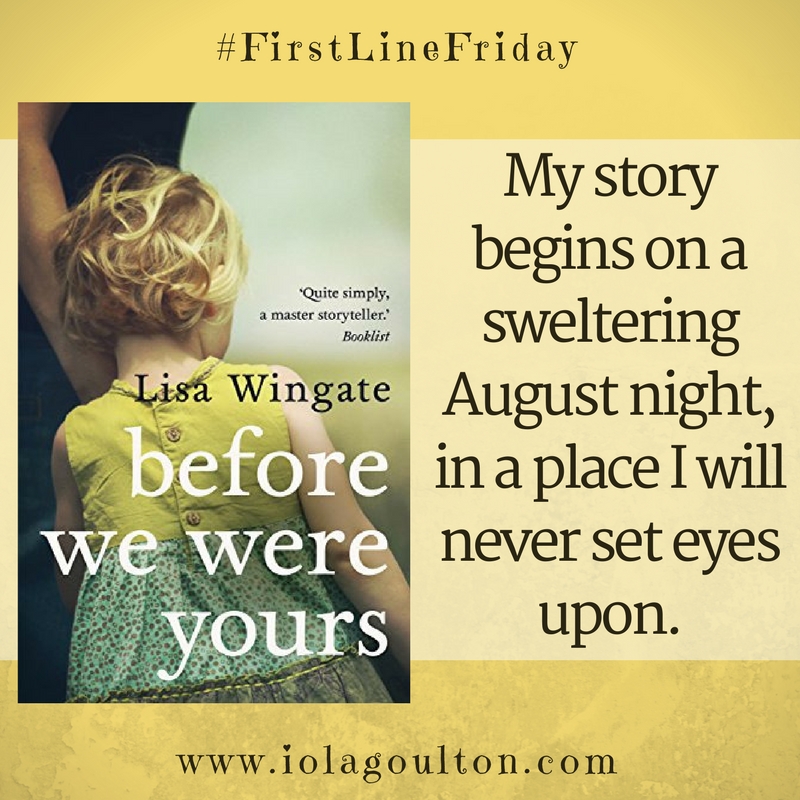 About Before We Were Yours
Two families, generations apart, are forever changed by a heartbreaking injustice in this poignant novel, inspired by a true story, for readers of Orphan Train and The Nightingale.
Born into a world of wealth and privilege, Avery Stafford seems to have it all. A loving daughter to her father, a US senator, with her own ambitious career as a lawyer and a handsome fiancé waiting for her in Baltimore, she has lived a charmed life.
But when Avery returns to Aiken to help her father weather a health crisis and a political attack, a chance encounter with May Crandall, an elderly woman she's never met before, leaves Avery deeply shaken. Avery's decision to learn more about May's life will take her on a journey through a hidden history of stolen children and illegal adoption. A journey that will reveal a secret that could lead to devastation…or redemption.
Based on one of America's most notorious real-life scandals–in which Georgia Tann, director of a Memphis-based adoption organization, kidnapped and sold poor children to wealthy families all over the country–Lisa Wingate's riveting, wrenching, and ultimately uplifting tale reminds us how, even though the paths we take can lead to many places, the heart never forgets where we belong.
(Yes, for some unknown reason, the Kindle and hardcover versions have different covers).
You can find Before We Were Yours online at:
Amazon | ChristianBook | Goodreads | Koorong
Click the button to check out what my fabulous fellow FirstLineFriday bloggers are sharing today:
You can then click the link which will take you to the master page of all this week's #FirstLineFriday posts.
And you can click here to check out my previous FirstLineFriday posts.
Share your first line in the comments, and happy reading!