Natchez, MS, 1791 …
Following the death of her brother and her father's subsequent injuries, Isabella Bartholemew is left in control of her family plantation of Breeze Hill on the Natchez Trace. She needs labour. Her father is opposed to slavery. So she hires an indentured Irish carpenter to rebuild the estate—Connor O'Shea.
I liked Isabella. She was a strong woman who was prepared to do what needed to be done to protect her family and her home. And there were a lot of threats. Natchez in 1791 wasn't a safe place for a woman almost alone. It was surrounded by slave traders, rouges on the road, and several suitors … some of whom are not what they appear.
That's a lot of trouble to navigate, and Isabella does it well. She was more intelligent and more savvy than many historical romance heroines. I liked that.
I enjoyed watching Isabella and Connor get to know each other, and watching their relationship progress against the backdrop of the local troubles. Connor O'Shea is practically perfect. He is a handsome, hardworking man of faith and principles, who once made the mistake of falling for the wrong girl. He says he's determined not to do the same again, but his actions (and feelings) don't match his words or will. This makes for some fun in the romance. (Although there was also plenty of conflict.)
All in all, The Promise of Breeze Hill was an excellent historical romance. The ending was perhaps a little too neat, but that's a small niggle in an enjoyable novel.
Thanks to NetGalley and Tyndale House for providing a free ebook for review.
About Pam Hillman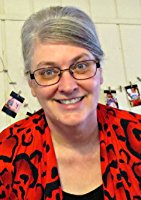 CBA Bestselling author Pam Hillman was born and raised on a dairy farm in Mississippi and spent her teenage years perched on the seat of a tractor raking hay. In those days, her daddy couldn't afford two cab tractors with air conditioning and a radio, so Pam drove an Allis Chalmers 110. Even when her daddy asked her if she wanted to bale hay, she told him she didn't mind raking. Raking hay doesn't take much thought so Pam spent her time working on her tan and making up stories in her head. Now, that's the kind of life every girl should dream of.
Find Pam Hillman online at:
Website | Facebook | Goodreads| Pinterest | Twitter
About The Promise of Breeze Hill
Anxious for his brothers to join him on the rugged frontier along the Mississippi River, Connor O'Shea has no choice but to indenture himself as a carpenter in exchange for their passage from Ireland. But when he's sold to Isabella Bartholomew of Breeze Hill Plantation, Connor fears he'll repeat past mistakes and vows not to be tempted by the lovely lady.
The responsibilities of running Breeze Hill have fallen on Isabella's shoulders after her brother was found dead in the swamps along the Natchez Trace and a suspicious fire devastated their crops, almost destroyed their home, and left her father seriously injured. Even with Connor's help, Isabella fears she'll lose her family's plantation. Despite her growing feelings for the handsome Irish carpenter, she seriously considers accepting her wealthy and influential neighbor's proposal of marriage.
Soon, though, Connor realizes someone is out to eliminate the Bartholomew family. Can he set aside his own feelings to keep Isabella safe?
Find The Promise of Breeze Hill online at:
Amazon | ChristianBook | Goodreads | Koorong
You can read the introduction of The Promise of Breeze Hill below: