Today I'd like to introduce Serena Chase, and her new Young Adult novel, Intermission: 
We are starlight on snow. The reflection of something already beautiful—absorbed, reflected, and remade into something . . . more.
And this kiss . . .
This kiss is everything I've needed to say . . . and longed to hear.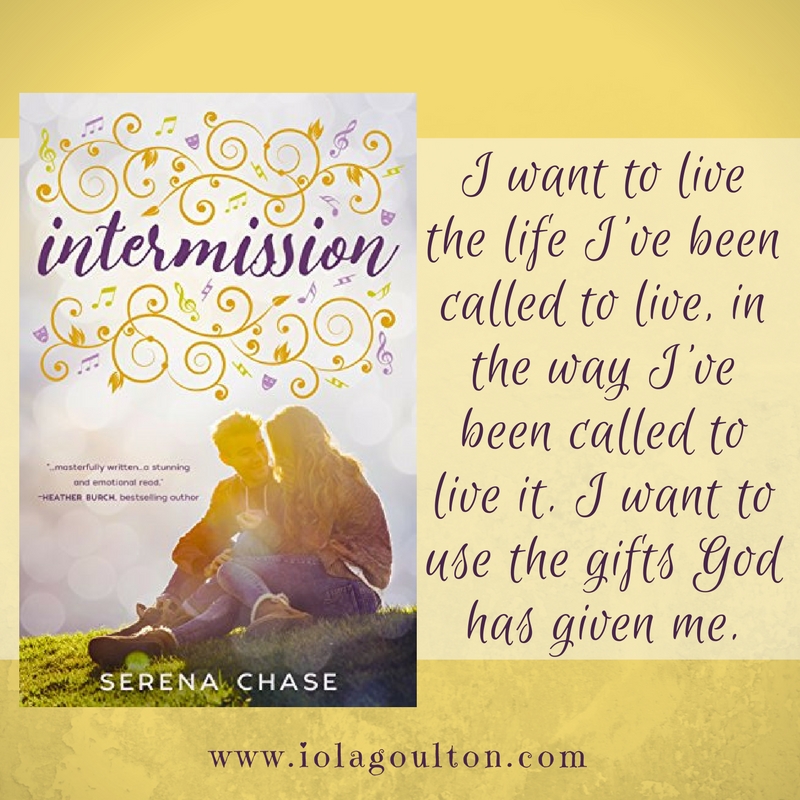 Sixteen-year-old Faith Prescott eagerly awaits the day she will exchange her small Iowa hometown for the bright lights of Broadway, but her success-driven parents want her to pursue a more practical career, labeling "artsy" people—including their daughter—as foolish dreamers worthy of little more than disdain.
When Faith meets nineteen-year-old Noah Spencer she discovers someone who understands her musical theatre dreams . . . because he shares them.
Faith's mother despises everything about Noah—his age, his upbringing . . . even his religious beliefs—and she grasps at every opportunity to belittle his plans to study theatre and pursue a stage career. When those criticisms shift further toward hostility, resulting in unjust suspicions and baseless accusations, an increasingly fearful stage is set for Faith at home, where severe restrictions and harsh penalties are put in place to remove Noah Spencer from her life.
But Faith has never connected with anyone like she has with Noah, and no matter how tight a stranglehold her mother enforces to keep them apart, Faith will not give him up. Behind the curtain, Faith's love for Noah continues to grow . . . as does her determination to hold on to her dreams—and him—no matter how high the cost.
Intermission is a heart-wrenching contemporary YA romance set against a backdrop of musical theatre and family drama. With coming-of-age themes that honestly explore gray areas of moral dilemmas, this novel traces the path of one talented teen girl as she crosses painful thresholds of first love, faith, and betrayal to take the necessary steps toward adulthood, independence, and the dreams that set her heart on fire.
I've just read Intermission, and I loved it. Click here to read my review at Australasian Christian Writers. 
And there's a giveaway!
Advance Praise for Intermission
"FINALLY someone has written a YA for all of us musical theater nerds! Intermission will pull you in like a big Broadway show with its swoony romance and a heroine you can root for. Serena Chase brings the theater world alive with this tale of first love, family drama, and a character who's searching for her place in this world."
Jenny B. Jones, award-winning author of I'll Be Yours and the Katie Parker Production series
"This book sings! A masterfully written story that broke my heart one moment and had me cheering for the main character the next. If you're looking for a stunning and emotional read, look no further than Serena Chase's Intermission."
Heather Burch, bestselling author of One Lavender Ribbon and the Halflings series
"A multifaceted coming-of-age love story that explores the depth of self-doubt, difficult family dynamics, and a faith built in the midst of heartache. Beautifully-crafted prose with a timely message."
Nicole Deese, author of the Love in Lenox series and The Promise of Rayne
"Intermission is a singularly captivating YA novel. It delivers a wistful holding of breath while exploring the emotions experienced in the gap between what happened before and the hoped-for promise of what might happen after. This book, as with all the very best coming-of-age stories, will resonate with readers of all ages as it encourages us to come out from behind the curtain, step into the spotlight, and have the courage to live without masks."
Sandra Byrd, author of A Lady in Disguise, and the London Confidential series
"Intermission is both heartbreakingly real and poignantly hopeful. Dipping her pen into issues of faith, friendship, and family, Chase had me holding my breath and experiencing the highs and lows as if I was personally involved in Faith and Noah's lives. Brava!"
Jill Lynn, author of Falling for Texas
"Intermission is a love story for the heart and the spirit. You'll fall head over heels for Faith and Noah!"
Lorie Langdon, author of Gilt Hollow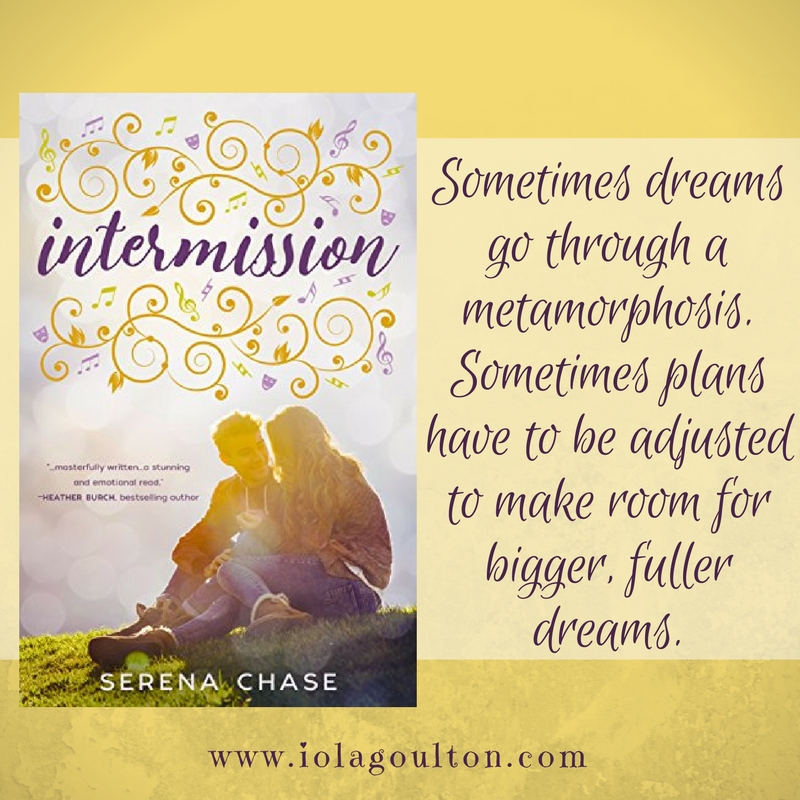 About Serena Chase 
SERENA CHASE is the author of the critically-acclaimed Eyes of E'veria series and a regular contributor to USA Today's Happy Ever After blog. A lifelong performer who sometimes speaks in show tunes, Serena lives in Iowa with her husband Dave, teen daughters Delaney and Ellerie, and a 100-pound white Goldendoodle named Albus, who is the biggest star of her Instagram account. Connect with Serena Chase by visiting her website and signing up for her newsletter, "like" her official Facebook page to stay up-to-date on new release news, and enjoy her sometimes poignant, but more often chuckle-inducing random observations of life on Twitter.