Rachel Hauck's most recent novels have all featured a present-day romance and a historical romance, with something that connects the two.
No prizes for guessing what the connection is in The Writing Desk …
In the present, Tenley Roth has just won a major writing award, but she's convinced she's only won because she's the great-great-granddaughter of the author for whom the award is named. Not to mention that she's just a hack who wrote a romance novel, and she's exactly zero words into the manuscript that's due in less than three months. And now she's in Florida, caring for her estranged mother as Blanche recovers from chemo.
In 1902, Bridie Shehorn has recently graduated from Wellesley. Now Mama insists she marry and move into her rightful role as leader of the Four Hundred. Mama even has a groom picked out—Alphonse, who is from a good family, suitably rich, yet far too fond of the ladies. And he's not Eli, the handsome Earl who is back in New York after serving in the Boer War.
I have to say that at the beginning, I was a lot more intrigued by Bridie's story than by Tenley's.
Most of Tenley's problems appeared self-inflicted. She's got an almost-fiance she stays with for no known reason, and a bad case of writers block made worse by constant lying to her agent and editor. On the other hand, Bridie's problems were mostly caused by a controlling Mama whose idea of good parenting was to do what was best for Mama with little or no regard for anyone else. Bridie least of all.
But I grew more and more interested in Tenley's story as the novel progressed.
She befriends Jonas, who has the large, close-knit family she always dreamed of, and begins to investigate his Christian faith. Yes, this is Christian romance, although the faith aspects are subtle to the point a reader might not even notice.
Bridie had her own subtle faith journey as well, although the focus of her story was more on her impending marriage, and her writing. Yes, Bridie was also a writer. I thought I'd picked up the connection between Tenley and Bridie early on (and the twist), but there was a lot more to the connection.
Recommended for those who enjoy dual-timeline stories.
Thanks to Zondervan and NetGalley for providing an ebook for review.
About Rachel Hauck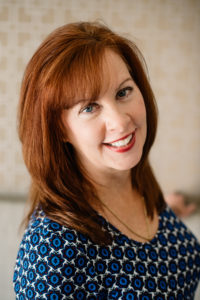 Rachel Hauck is an award winning, New York Times, USA Today and Wall Street Journal bestselling author.
Her book The Wedding Dress was named Inspirational Novel of the Year by Romantic Times. She is a double RITA finalist, a Christy and Carol Award Winner.
Rachel sits on the Executive Board for American Christian Fiction Writers, and is the comical sidekick to Susan May Warren at the amazing My Book Therapy. She is a worship leader and speaker.
A graduate of Ohio State University with a degree in Journalism, Rachel is a devoted Ohio State football fan. She lives in sunny central Florida with her husband and ornery cat.
Visit her at www.rachelhauck.com or www.facebook.com/rachelhauck
Click below to buy The Writing Desk
Amazon | Amazon UK | Amazon AU | Christian Book | Kobo | Koorong