The Blacksmith's Heart is the first book in Nerys Leigh's Back to the West series, so you don't need to have read any of her other books in order to enjoy this one. Having said that, if you have read any of her earlier Escape to the West mail order bride stories, you will recognise some of the characters in The Blacksmith's Heart (even though the Escape to the West books are set around 15 years later than The Blacksmith's Heart).
The Blacksmith's Heart is the story of widower Peter Johnson, the blacksmith in Green Hill Creek, and father to ten-year-old Jesse. He'd never planned to marry again, but that was before Miss Malinda Wilson moved into town with her sister and brother, the new doctor. (I'm guessing they are the hero and heroine of the next two novels in the series, The Doctor's Courtship and The Spinster's Hope, both apparently coming in 2018).
Anyway, Peter isn't looking for a wife, which is good because Malinda isn't looking for a husband. Although Peter is handsome and smart and interesting and funny, with broad shoulders and brilliant blue eyes …
Okay, so this is a romance novel, which means we all know how it's going to end. But the fun part is the journey, and it's definitely fun. Peter has a disabled son, Jesse (who we later see in An Unexpected Groom). But right now Jesse is a mischievous ten-year-old who wants to ride and fish and pick blackberries … all the things a normal child would want to do.
It's a great story, perfect for long summer days (if you're Down Under, like me) or long winter nights (for the rest of you). Recommended for fans of Christian romance from authors such as Regina Jennings and Karen Witemeyer.
Thanks to the author for providing a free ebook for review.
About Nerys Leigh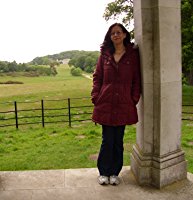 Nerys Leigh writes thoroughly romantic Christian historical love stories. She loves heroes who are strong but sweet and heroines who are willing to fight for the life they want.
She's from the UK, which you would think puts her in a unique position to not write about mail order brides in the American west, but the old adage of writing what you know has never appealed to her. She has an actual American read each book before publishing to make sure she hasn't gone all English on it.
No One's Bride is the first in the Escape to the West series which tells the stories of a group of women willing to travel across America to find happiness, and the men determined to win their hearts.
You can find Nerys Leigh online at:
About The Blacksmith's Heart
Can true love strike twice in a lifetime?
Peter Johnson met the love of his life when he was nineteen. Three years later, she was gone, leaving him to raise their son alone. Knowing he would never love another woman the way he loved his wife.
But when a new doctor arrives in town ten years later, bringing with him his smart, beautiful, funny, opinionated sister, desires Peter never dreamed he'd feel again begin to surface.
Malinda Wilson, however, is fiercely independent and doesn't want a husband. Which is good, because Peter doesn't want another wife.
He's almost sure of that.
Christian historical romance The Blacksmith's Heart is the first in a prequel trilogy to the bestselling Escape to the West series. Lose yourself in the romance of the old west with this heart-warming, uplifting novella!
You can find The Blacksmith's Heart online at:
Amazon US | Amazon AU | Amazon UK | Goodreads
You can read the introduction to The Blacksmith's Heart below. If you like it, pop over to www.nerysleigh.com and download your free copy!