It's Throwback Thursday, where I share a review of an older book, or reshare a review. Today I'm resharing my review of Sweetbriar Cottage by Denise Hunter, a wonderful Christian novel of the power of unconditional love. It's a standalone novel, but it's set in the same community as Hunter's Blue Ridge Romance series. I've already reviewed Blue Ridge Sunrise, and Honeysuckle Dreams releases on 1 May 2018. I'll post my review in a couple of weeks.
About Sweetbriar Cottage
When Noah and Josephine Mitchell discover their divorce was never actually finalized, their lives are turned upside down.
Following his divorce, Noah gave up his dream job, settling at a remote horse ranch in the Blue Ridge Mountains of northern Georgia, putting much-needed distance between himself and the former love of his life. But then Noah gets a letter from the IRS claiming he and Josephine are still married. When he confronts Josephine for the first time in months, they discover that she missed the final step in filing the paperwork and they are, in fact, still married.
Josephine is no happier about the news than Noah. Maybe the failed marriage–and okay, the botched divorce–was her fault, but her heart was shattered right alongside his, more than he would ever believe. The sooner they put this marriage behind them, the better for both of their sakes.
But when Josephine delivers the final paperwork to his ranch, the two become stranded in his cottage during the worst spring snowstorm in a decade. Being trapped with Josephine is a test of Noah's endurance. He wrestles with resentment and an unmistakable pull to his wife–still beautiful, still brave, and still more intriguing than any woman he's ever known.
As they find themselves confronted with each other and their shared past, old wounds surface and tempers flare. But when they are forced out into the storm, they must rely on each other in a way they never have before. Josephine finally opens up about her tragic past, and Noah realizes she's never been loved unconditionally by anyone–including him. Will Noah accept the challenge to pursue Josephine's heart? And can she finally find the courage to trust Noah?
You can find Sweetbriar Cottage online at:
Amazon | ChristianBook | Goodreads | Koorong
My Review
Noah Mitchell is less than impressed when he finds his ex-wife is actually still his wife.
She forgot to file their divorce papers, so the divorce was never final. Oops. Now he has to get those papers filed to get the IRS off his back. But getting them filed means visiting Josephine Dupree Mitchell again—not something he's looking forward to.
Josie knows how much Nate doesn't want to spend time with her.
And why would he, after what she did? So she decides to be helpful and save Nate a trip into town by driving out to his ranch to deliver the signed papers. She can get his signature, file the papers with the judge, and the divorce will be done. At last.
Only things never work out as planned, because a snowstorm hits as Josie arrives at the ranch. She's trapped with Nate, the ex-husband she still has feelings for.
Then things get worse …
Sweetbriar Cottage is a sweet (!) yet powerful exploration of the nature of unconditional love. It starts in the present, but has multiple flashbacks. Flashbacks to three and a half years ago, when Nate and Josie first met. And flashbacks to Josie's childhood—the childhood she never discussed with Nate. The flashbacks gradually reveal what she did—and why.
It was always obvious Nate was the one who had instigated the divorce, and this got me wondering . How can you meet, marry, and divorce in just three years? (This seems unbelievably fast. I live in New Zealand, where it takes at least two years to get a divorce.) What had she done that he couldn't forgive? And why did he marry a non-Christian in the first place?
It was also obvious that Josie was one emotionally messed up woman, and that whatever she'd done was the result of her messed up teenage years (triggers!) and her subsequent belief that there is no such thing as unconditional love.
Spoiler: there is. But that's something Nate and Josie both need to learn.
I'd been a little apprehensive about reading Sweetwater Cottage, but it captured me from the beginning and never let up. A great second chance romance with some deep Christian themes.
Thanks to Thomas Nelson and NetGalley for providing a free ebook for review.
About Denise Hunter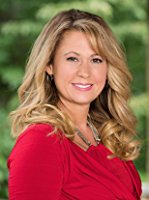 Denise Hunter is the internationally published bestselling author of more than 30 books, including "The Convenient Groom" and "A December Bride" which have been made into Hallmark movies. She has appeared on the The 700 club and won awards such as The Holt Medallion Award, The Carol Award, The Reader's Choice Award, The Foreword Book of the Year Award, and is a RITA finalist.
Denise writes heartwarming, small-town love stories. Her readers enjoy the vicarious thrill of falling in love and the promise of a happily-ever-after sigh as they savor the final pages of her books.
In 1996, inspired by the death of her grandfather, Denise began her first book, writing while her children napped. Two years later it was published, and she's been writing ever since. Her husband says he inspires all her romantic stories, but Denise insists a good imagination helps too!
When Denise isn't orchestrating love lives on the written page, she enjoys traveling with her family, drinking good coffee, and playing drums. Denise makes her home in Indiana where she and her husband raised three boys and are currently enjoying an empty nest.
Find Denise Hunter online at:
You can read the introduction to Sweetbriar Cottage below: